Frances Marie Hall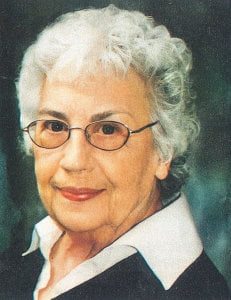 Funeral services for Frances Marie Hall, 98, West Plains, Missouri, will be held at 2:00 p.m., Sunday, December 11, 2022 at Enterprise Baptist Church, Viola, Arkansas, under the direction of Robertson-Drago Funeral Home.  
Mrs. Hall passed away Thursday, December 8, 2022, at her home.  
She was born May 12, 1924, near Mound City, Missouri, Jimmie James and Elsie Pauline Smith.  On March 5, 1939, Frances moved with her family from Mound City, Missouri to the family farm south of West Plains, Missouri.  The Hall family lived one mile through the woods from the Smith's home, and it wasn't long before a distinct path connecting the homes was made.  The Smith family and Hall family attended many church services together and soon Frank began dating Frances.  On November 2, 1942, Frances was married to Frank Hall at the home of the Reverend Joe Rouintree, northwest of West Plains in the Cull community.  When they were first married, Frances worked at The American Sales Co. and the F.W. Woodworth Stores on the Court Square in West Plains until 1945 when their son, Terry James, was born.  She returned to work in a few months and worked in various family businesses.  In the 1950's, Frances worked in the family wallpaper and paint store, and in the Howell County Treasurer's Office for 8 years where Frank served as Treasurer and welcomed their daughter, Patricia K. (Pat), who was born in December, 1952.  The Halls and partners also owned and operated the drive-in and movie theatres in West Plains during these years.  In the 1960's and 1970's the Halls owned and operated the Mo-Ark Burial Vault Co., Coin-Op Laundromat and Cleaners and assisted in the West Plains Ambulance Service.  Frances was a Christian and even though she lived a very active life, she loved serving as a pastor's wife in small churches of Southern Missouri and Northern Arkansas where she taught children's Sunday school classes.  Frances was an active member of Enterprise Baptist Church of Viola, Arkansas at the time of her passing.  She loved children and during her later years was able to babysit some of her grandchildren, great-grandchildren and special little friends.
She is survived by her daughter, Pat Luther (Larry), Viola, Arkansas; four grandchildren, Michelle Miller (Randy), West Plains, Justin Luther (Rachel), Viola, Arkansas, , Mikala McGovern (Mike) and Brooke Vanover (Jason), southern California; eight great-grandchildren, Addison and Tucker Luther, Viola, Arkansas, Dee Dee Button (Ed), West Plains, D.J. Miller (Beth), Kansas City, Kansas, Caden. Cole and Sage McGovern and Jade Vanover, all of southern California; four great-great-grandchildren, Serenity, Acelyn, Nevaeh and Radley Button; several nieces and nephews;  special caregivers; and many other relatives and friends. 
Her parents, husband, one son, Terry James Hall, one brother, Lester Smith (Gladys), and one sister, Charlotte Watkins (Bob), preceded her in death.  
Visitation services will be held from 1:00 until 2:00 p.m., at Enterprise Baptist Church.  Mrs. Hall will lie in state from 5:00 until 8:00 p.m., Saturday, at Robertson-Drago Funeral Home.  Burial will be in Pickren Hall Cemetery, Viola, Arkansas.  Memorial contributions may be made to St. Jude's Children's Research Hospital and may be left at or mailed to Robertson-Drago Funeral Home, 211 West Main, West Plains, MO  65775.