Gale L. Newman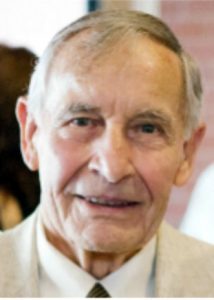 Gale L. Newman, 84, Mtn. Home, Arkansas, passed away at 9:48 a.m. May 6, 2020 at Barnes Jewish Hospital in St. Louis, Missouri after a brief illness.
He was born January 4, 1936 at the family farm on AB Highway in West Plains, Missouri, the youngest child of Charles Carroll Newman and Doris Chesnut Newman. They preceded him in death.
His education began in a one-room schoolhouse, Homeland School, until the family moved to town when Gale was in the third grade. He graduated from West Plains High School in 1954 where he was a good athlete, playing both basketball and football. He attended the University of Missouri-Columbia on an NROTC scholarship and was active in campus activities, including serving as President of Phi Kappa Psi social fraternity and induction into QEBH, a senior honor society. Following his 1958 university graduation, he was commissioned a Second Lieutenant in the United States Marine Corps and served his country as a helicopter pilot from 1958-1962.  On June 20, 1959, he married Janet Gum Paris in West Plains, Missouri. They had three daughters, Elizabeth Paris, Cynthia Carroll and Janet Caroline, and celebrated their 60th wedding anniversary last summer.
The couple lived on all three coastlines of the United States during their first four years of marriage, first at the Naval Air Station in Pensacola, Florida and then at the Santa Ana Helicopter Base in Santa Ana, California. Gale began his civilian life in Portland, Maine as a salesman for the Warren Paper Company then returned with his family to Missouri in 1963 and developed property on Table Rock Lake in Branson. The family moved to Hannibal, Missouri in 1967 where he worked as General Manager for Bonanza Buildings and later started his own farm metal building company, Sun Building Systems.  In 1984 he was named Executive Director of the Hannibal Chamber of Commerce and Industrial Council. At its helm, he grew manufacturing in the city by 30 percent, represented Hannibal as part of the governor's Economic Development Group in Japan, and coined the phrase "America's Hometown," still used today for Hannibal postmarks. Hannibal became the Newman family's "hometown," too, and the couple developed warm and enduring friendships that lasted a lifetime.  In 1986, he became Executive Director of the Naples, Florida Area Chamber of Commerce and the couple enjoyed life in the Sunshine State for 12 years. During this time, he loved piloting his 52 ft sport fishing boat, the "Restless Spirit," and took it and his family on numerous ocean adventures. The couple returned to the Ozarks in 1998, this time in Elizabeth, Arkansas on Lake Norfork. He not only built and designed his dream house there, but also milled the lumber used in its construction. The 400-acre wildlife refuge known as Stonehollow became his passion, labor of love and home for 18 years. The property was recognized as an Arkansas Stewardship Forest for his tireless work in reestablishing native grasses and tree preservation.  Flying was a big part of his life. He taught himself to fly at 16 and owned an airplane and continued flying until he was in his 70s. His favorite airplane was the V-tailed Bonanza. He was a man of many talents, had an unquenchable thirst for learning and could build and repair anything. He built his first house at 12. He majored in creative writing in college and continued writing the rest of his life, specializing in poems for birthdays, "talks" for church services, and eulogies for friends and family. His grin was wide, and his boundless energy and zest for life contagious. He loved his family dearly, and he doted on his dogs, Millie and Corgi. All will miss him terribly.  Mr. Newman was a member of the First Presbyterian Church in Mtn. Home where he served as an elder. He enjoyed playing tennis at the Mtn. Home Tennis Center.
Preceding Mr. Newman in death were his parents, his brother, Melvin Newman, his son-in-law, Sam Grisham and his nephew Mark Newman.
He is survived by his wife of the family home, one sister, Maxine Reid, Springfield, Missouri; three daughters, Elizabeth Bennett (Drew) West Plains, Missouri; Cynthia Newman, Dallas, Texas; and Caroline Devoy (John) Houston, Texas; seven grandchildren, John Zupan (Eva) Mansfield, Texas; Catherine White (Ryan) Springdale, Arkansas; Mary-Louise Tollenaar (John) West Plains, Missouri; Margaret Schloss (Jason) Fayetteville, Arkansas; Molly Rivard, San Antonio, Texas; Olivia and Henry Devoy, Houston, Texas; nine great grandchildren, Avery and John J. Zupan IV, Sophia, Caroline and Mary-Claire White, Frances and Sam Schloss, Eleanor Tollenaar and Jackson Miller Rivard; a first cousin, Joe Spears, West Plains, Missouri and several nieces and nephews.
A private family graveside service will be held at Oak Lawn Cemetery in West Plains and a memorial service will be held at a later date in Mtn. Home, Arkansas.
Memorial contributions may be made to the First Presbyterian Church of Mtn. Home and may be left at or mailed to Robertson-Drago Funeral Home, 211 West Main Street, West Plains, MO  65775.