George Franklin Willard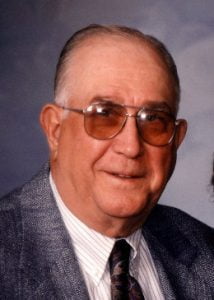 Graveside services for George Franklin Willard, 95, West Plains, Missouri, will be held at 10:00 a.m., Friday, September 11, 2020 at Oak Lawn Cemetery, under the direction of Robertson-Drago Funeral Home.
Mr. Willard passed away at 6:30 a.m., Tuesday, September 8, 2020, at his home, surrounded by his family.
He was born March 23, 1925, at West Plains, Missouri, to Frank Willard and Pearl Ford Willard.  Mr. Willard was a WWII veteran, having proudly served with the United States Army in the Pacific as a TSGT with the 6th Infantry Division from 1943 to 1946.  He married Dorothy Voorhis on June 11, 1949, in Salem, Arkansas.  They were joined with George's brother, Jim and Dorothy's sister, Ethel, who were also wed that day.  George worked for Howell-Oregon Electric Co-op until 1951, when he and his family moved to Kansas City, Missouri, where he worked in a steel mill as an electrician and machine operator until he retired in 1988, returning to West Plains in 1993.  Early vacations were spent at Bidwell Point on Norfolk Lake for many years with family and friends.  Later they became huge bluegrass music fans and spent many years traveling to festivals where they made many lifelong friends.  Dorothy's sister, Ethel Willard, was instrumental in founding Heart of the Ozarks Bluegrass Association.  George accepted Christ as his Savior and was baptized in 2003. 
He is survived by two daughters, Patty Willard, West Plains, Missouri and Sherry McBride and husband, Rick, Winona, Missouri; one daughter-in-law, Jeanette Willard, Gladstone, Missouri; eight grandchildren; twenty-two great-grandchildren; one brother, Jim Willard, West Plains, Missouri; and several nieces and nephews.
His parents, wife of sixty-nine years, one son, Steven Willard, one brother, Herschel Willard and three sisters, Marie Wheat, Pauline Collins and Naomi Dye, preceded him in death.
Mr. Willard will lie in state from 5:00 until 9:00 p.m., Thursday, at Robertson-Drago Funeral Home.   Memorial contributions may be made to Three Rivers Hospice, West Plains, Missouri and may be left at or mailed to Robertson-Drago Funeral Home, 211 West Main, West Plains, MO  65775.