Gerald DeWayne Dockins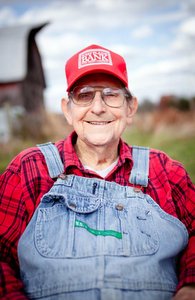 A private funeral service for Gerald DeWayne Dockins, 86, West Plains, Missouri, will be held on Friday, August 5, 2022, at Bailey Cemetery, Alton, Missouri.
Mr. Dockins passed away peacefully in his sleep Sunday morning, July 31, 2022, at his home.
He was born February 8, 1936 in Wideman, Arkansas to Edith Fountain.
On September 4, 1953, he was married in Dubuque, Iowa to Wanita Huff. Mr. Dockins was a member of First Baptist Church. He was a man of peace who loved to watch deer and birds on the 160 acre cattle farm he lived on for fifty years. His steadfastness as a husband was apparent to all as he would still pick flowers for, tease, and dance with his wife Wanita of 68 years. His joy, generosity, and peaceful spirit will be greatly missed by his family and all who knew him.
He is survived by his wife, Wanita, of the family home; two children, Mary McGee and husband, Jim McGee, West Plains, and Michael Dockins, Republic, Missouri; five grandchildren, Jacob McGee and wife, Anna, West Plains, Jaime Grisham and husband, John, Jonesboro, Arkansas, Shannon Chen and husband, Stone, West Plains and Chris Dockins and wife, Rose, Republic, Missouri; and eight great-grandchildren Ezra, Edith, Alice, Josephine, Lydia, Lincoln, Bentley, and Liam.
He was preceded in death by his grandparents, mother, mother-in-law, father-in-law and infant son, Jeffrey.
Visitation will be from 6:00 p.m. to 8:00 p.m., Thursday, August, 4, at the home of Jacob and Anna McGee, 307 Hynes Street West Plains, Missouri. Flowers may be sent to the home of Jacob and Anna McGee.  Arrangements under the direction of Robertson-Drago Funeral Home.