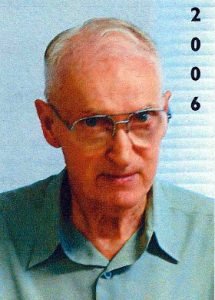 Funeral services for Harold Lynn Moushon, 82, West Plains, Missouri, will be held at 2:00 p.m., Sunday, June 23, 2019 in the Rose Chapel at Robertson-Drago Funeral Home.
Mr. Moushon passed away at 5:20 p.m., Thursday, June 20, 2019 at his home.
He was born July 2, 1936, at East Peoria, Illinois, to Lester Lee Moushon and Mary Martha Burroughs Moushon.  On September 4, 1956, he was married at Hernando, Mississippi, to Connie Bolen.  Mr. Moushon had been a farmer, a logger, had operated a construction company and for a number of years he was a truck driver alongside his wife.  He loved his family and working; he adored his grandchildren and loved holidays and time with family.  Mr. Moushon was strong in his Christian faith.
He is survived by his wife of sixty-two years, Connie Moushon; four children, Deborah Brian and husband, Joseph, West Plains, Missouri, Benita Moushon, North Little Rock, Arkansas, Bruce Moushon, Skitook, Oklahoma and Liese Jewell, Groveland, Illinois; eight grandchildren, Daniel Evans, Tom Westbrook, Kelita Skinner, Joshua Moushon, Zachary Moushon, Morgan Biddle, Dakota Moushon and Tyler Jewell; sixteen great-grandchildren, Caitlyn, Halo, Harmony, Hope, Brody,  Isabell, Holden, Kaylie, Athens, Elijah, Thomas, Bonhom, Omiah, Aaboht, Allison and Kody; two brothers, Wayne Moushon and wife, Agnes, Brimfield, Illinois, Harlan Moushon, Morton, Illinois; one sister, Martha Tendall and husband, Russell, Seneca, Illinois; one brother-in-law, Cleo Koch, Tremont, Illinois; and several nieces and nephews.
His parents, one granddaughter, Amanda Jewell, one great-granddaughter, Ruby Westbrook, daughter-in-law, Rhonda Moushon, four brothers and one sister, preceded him in death.
Mr. Moushon will lie in state from 5:00 until 9:00 p.m., Saturday, at Robertson-Drago Funeral Home.  Burial will be in the Stuart Union Cemetery.  Memorial contributions may be made to Stuart Union Cemetery and may be left at Robertson-Drago Funeral Home.