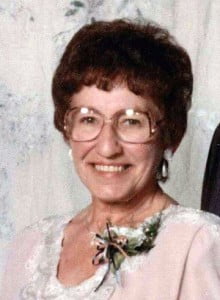 Funeral services for Harriet Elizabeth Dencoff, 83, West Plains, Missouri, will be held at 10:00 a.m., Friday, October 23, 2015 at St. Paul Lutheran Church, under the direction of Robertson-Drago Funeral Home.
Mrs. Dencoff died at 11:47 p.m., Monday, October 19, 2015 at Brooke Haven Health Care.
She was born October 20, 1931, the youngest of eight daughters, at the family homestead on S. 54th Avenue in Cicero, Illinois, to Harry Stancato and Alice Prancel.  Her sisters raised her from infancy, as her mother died shortly after her birth.  She was her father's darling baby girl and soon earned the nickname "Babe" from him.  As the daughter of a truck farmer, she soon learned to work the fields as a youngster and to handle her father's huge Clydesdale plow horses.  Being from a farm family, animals were always a part of her life; she was never without a dog or cat by her side.  A natural born musician, she could play the piano "by ear" and was a constant entertainer for her family.  Mrs. Dencoff attended schools in Cicero and was a graduate of J. S. Morton High School.  The school of life had taught her much over the years and she was always in the process of learning something new, as she had an infinite variety of interests.  On a blind date, she met Joseph Dencoff, a young Navy sailor recently home from World War II and working on the railroad.  As they had similar life goals and seemed to like each other a whole lot, they became engaged and eventually married on June 24, 1951.  The result of this union was three darling daughters who were raised to believe in the strong family values that Joe and Babe had instilled in them.  The family started out on a little farm in Downers Grove, Illinois, and then moved to West Chicago, Illinois.  Their lives were full of horses, goats, dogs, cats, 4H clubs, fishing, campfires, growing and selling sweet corn, bailing hay, etc.  There was never a dull moment in the household with a variety of music lessons, horse shows, rodeos, county fairs, craft classes and much more.  After living in Poplar Grove, Illinois for several years, they moved to Cabool, Missouri then eventually to West Plains, Missouri.  Harriet led a colorful life, but it was the simple things that brought her the most joy; friends, family, church and the love she shared with Joe.  She was an avid horsewoman, cook, piano player, dancer, singer and loved to crochet.  Attending church with fellow Christians and friends at St. Paul Lutheran in West Plains gave her great joy. She truly enjoyed putting the needs of others ahead of her own and had the beautiful gift of being able to befriend all that she met, young and old and from every walk of life.  She will truly be missed.
She is survived by her daughters, Catherine Owens, husband, Jerry, Sandwich, Illinois, Deanna Ripko, husband, George, Gamaliel, Arkansas and Ellen Norris, husband, Ron, West Plains, Missouri; seven grandchildren, Julie Thanepohn, husband, Chad, Thomas Owens, wife, Stephanie, Victoria Shouse, husband, Jeremy Dustin Ripko, wife, Alicia, David Ripko, wife, Jessica, Heidi Clay, husband, Daniel and James Norris; several great-grandchildren; many nieces and  nephews; and many, many friends.
Her parents, husband and all of her sisters, Julia, Esther, Amelia, Mabel, Rosemary, Loretta and Ethel, precede her in death.
Visitation will be held from 6:00 until 8:00 p.m., Thursday at Robertson-Drago Funeral Home. Burial will be in the Howell Memorial Park Cemetery.