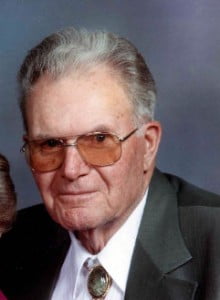 Graveside services for Harvey Lee Strong, 92, West Plains, Missouri, will be held at 2:00 p.m., Friday, June 26, 2015, at Oak Lawn Cemetery, under the direction of Robertson-Drago Funeral Home.
Mr. Strong died at 11:45 a.m., Tuesday, June 23, 2015, at Brooke Haven Health Care.
He was born July 23, 1922, at Gainesville, Missouri, to Robert Bess Strong and Vada Verona Luna.  He graduated from Gainesville High School with the Class of 1937.  Mr. Strong was a veteran, having served with the United States Army Air Corps during World War II in Germany.  He worked in the Civilian Conservation Corps in the 1940's.  On December 20, 1946, he was married at West Plains, Missouri, to Evelyn Marie Heard, who preceded him in death on February 7, 1989.  On March 11, 1991, he was married to Nona Ellen Stanley Clarke on their pontoon boat at Udall, Missouri.   He was a member of the West Plains Lion's Club; having received a 30 year Diamond Award in 1997.  Harvey helped organize the South Howell County Ambulance Service and served on the board for twenty-three years.  For many years he was a contractor of school buses for West Plains R-7 Schools; after the school purchased the buses, Harvey drove for the school system until his retirement.   He loved to fish and enjoyed bluegrass music and attended many bluegrass festivals.  Mr. Strong was a member of the Church of Christ and attended Central Church of Christ.
He is survived by his wife, Nona Strong; one step-son, Allen Clarke, wife, Jeannie; three step-grandchildren; eight step-great-grandchildren; and several cousins, including Jean Thompson and Ronnie Luna.
His parents, first wife and step-daughter, Connie Henry, precede him in death.
Mr. Strong will lie in state from 5:00 p.m. Thursday until 12:00 noon Friday at Robertson-Drago Funeral Home.  Memorial Contributions may be made to Alzheimer's Association and may be left at Robertson-Drago Funeral Home.