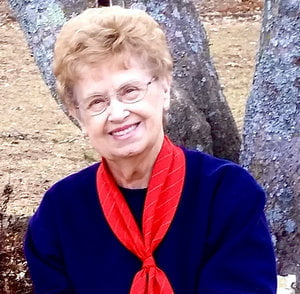 Funeral services for Helen Marie Collins, 86, Caulfield, Missouri, will be held at 2:00 p.m., Thursday, November 2, 2023, at First Baptist Church, Bakersfield, Missouri, under the direction of Robertson-Drago Funeral Home.
Mrs. Collins passed away Sunday, October 29, 2023, at Baxter Regional Medical Center, Mountain Home, Arkansas with her family by her side.
Helen Marie (Mullins) Collins was born July 26, 1937, in Howell County, Missouri, to George and Verba (Garner) Mullins. Helen graduated High School from Bakersfield, Missouri in 1955. Her father, George Mullins, was the superintendent and had the honor of presenting Helen her high school diploma. Helen continued her post-secondary education at Southwest Missouri State College (Missouri State University). On May 11, 1957, she was married at Hernando, Mississippi, to James Norris Collins "Shorty", who preceded her in death on July 26, 1992. In the 60's Helen worked at Franklin Tax Service in West Plains, Missouri for 10 years, which was located on the square. She later moved to Caulfield, Missouri and began working at Baxter Healthcare (the Lab) for 18 years until reaching retirement. While at Baxter Healthcare (the Lab) she made many lasting friendships. During her vacations and weekends, it was usually mandatory to go camping or travel the U.S. with her husband, Shorty. They always welcomed friends and family members to tag along which made the precious memories that we carry with us today. Bluegrass music was a staple in the home and a necessity on road trips. The moment she retired, she placed a sticker on a piece of luggage that read "Spending my children's inheritance", and set off to travel the world. Many souvenirs were carried home and each souvenir was given to someone she had thought of along her travels. She was finally able to complete her traveling bucket list. At this point, Helen began working as an election official at the Bakersfield voting precinct. At the election precinct she worked alongside her dear friends, Verlene Halford, Alice McKee, Elma Gargione, and Sue Orf. Helen was able to see her children, grandchildren and even her great grandchildren exercise their right to vote. Coming from a military family this was important to her. She may not have liked who they were voting for, but every time one of them walk through the precinct door, she would have a big smile on her face and literally glow with pride. Helen was a lifelong member of the First Baptist Church of Bakersfield. For many years, Helen had worn many different hats throughout her membership at the First Baptist Church. She assisted with multiple Vacation Bible Schools, Sunday potlucks, Valentine dinners, Christmas programs, and most importantly instilling and teaching the word of God to many generations.
She is survived by two sons, Bruce Collins (Ronda), and Brian Collins, all of Caulfield, Missouri; four grandchildren, Jamie Hardin (Robby), Caulfield, Missouri, Amanda Parker(Read), Huntington Beach, California, Taylor Collins (Mandi), Caulfield, Missouri and Emilie Anderson (Aaron), Clarkridge, Arkansas; 9 great-grandchildren; one sister, Rosemary (Mullins) Durham, Swartz Creek, Michigan; 2 nephews, Alan Durham, Decatur, Georgia, and John Durham, Twin Lakes, Wisconsin.
Her parents, husband, one brother-in-law, Jack Durham and one niece, Debbie Pratt, preceded her in death.
Mrs. Collins will lie in state from 6:00 until 8:00 p.m., Wednesday at Robertson-Drago Funeral Home. Visitation services will be held from 1:00 until 2:00 p.m., Thursday, at First Baptist Church, Bakersfield, Missouri. Burial will be at Baptist Hill Cemetery. Memorial contributions may be made to First Baptist Church of Bakersfield and may be left at or mailed to Robertson-Drago Funeral Home, 211 West Main, West Plains, MO 65775.