Helen (Sylvia) Counts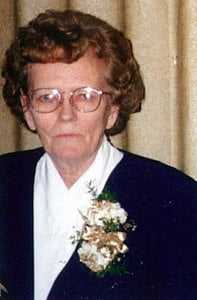 Graveside services for Helen (Sylvia) Counts, 91, West Plains, Missouri, will be held at 2:00 p.m., Thursday, November 17, 2022 at Dry Creek Cemetery, under the direction of Robertson-Drago Funeral Home.  
Mrs. Counts passed away at 3:20 a.m., Tuesday, November 8, 2022, at Brooke Haven Healthcare.  
She was born February 20, 1931, at Bellingham, Washington, to Edwin Baker and Wilhelmina (Alma) England Baker.  On February 19, 1949, she was married at Mountain Grove, Missouri, to Dwight Vance Counts, who preceded her in death on April 23, 2006.  Sylvia graduated from Willow Springs High School in 1949.  She was employed at Conway Winters for forty-three years.  She has played violin and harmonica since the age of three and played with local musicians and musical entertainers until the age of ninety.  She was a woman blessed with many talents.  Sylvia was a Christian and was of the Baptist faith.  She will be missed by many as she now embarks on her final journey to be with those whom have gone on before her in their "Heavenly Home" with God. 
She is survived by one daughter, Judy (Counts) Wesley and husband, John, Willow Springs, Missouri and Ramona, California; two sons, Rob Counts and wife, Missy, Raytown, Missouri and Tim Counts, Springfield, Missouri; twelve grandchildren; and nineteen great-grandchildren. 
Her parents, husband of fifty-eight years, Dwight Counts, one daughter, Barbara Counts, two grandsons and two brothers, James Baker and Roy Baker, preceded her in death.  
Visitation services will be held from 6:00 until 8:00 p.m., Wednesday, at Robertson-Drago Funeral Home.