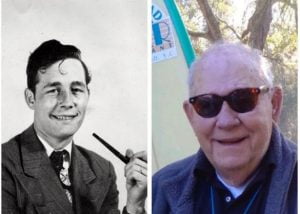 Graveside services for Homer Wayne Adams, 88, will be held on Friday July 26 at 2:00 pm at Oak Lawn Cemetery in West Plains, where he will be laid to rest next to his wife Nancy.
Mr. Adams was born in Borger, Texas in 1931 to Homer William and Frances Alice Snodgrass Adams, and grew up in West Plains. He was married in 1948 to Nancy Katherine Cochran of West Plains, and shortly afterward the couple moved to Texas, where they had two children, Katheryn Jane and Wayne Scott Adams. He received a Bachelor of Science degree from the University of Houston, and worked as chief Human Resources Officer at Texas Electric Steel Casting Company in Houston, until his retirement in 1980. Following retirement, he and his wife moved back to West Plains, being joined there by his parents, both children and their families. There he was able to pursue his hobbies of working on old cars, and participating in raising his grandchildren. He had 5 grandchildren – Holly Frances, Russell Scott Adams, Angelica Adams, Anastasia Adams, and April Adams. He also had 7 great-grandchildren, Kathryn Jane, Alexa, Sarabeth, Benjamin, Jake, Hayden and Clayton. He loved to travel, and was able to visit North America from California to New York, from Alaska to Florida, and from Mexico to Canada. His friends and neighbors described him as a gentleman and one who was always generous and kind. He was a family man from early in his life, and remained devoted to family throughout. In 2014, he moved to Dyersburg, TN to be near his daughter and son-in-law.
He is survived by his children and their spouses Dan and Kate Thompson of Dyersburg, TN and Wayne and Valeryia Adams, of Long Island, NY and all 12 grandchildren and great-grandchildren. He is much missed by those whose lives were enriched by his constant care and attention.
Preceding him in death were his much-loved wife Nancy, his sisters Mary Jane Langston and Wilma Dannhaus, and his parents.