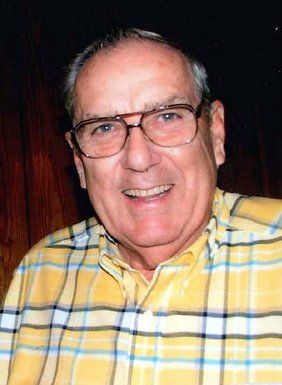 Funeral services for Howard A. Puckett, Jr., 79, Pottersville, Missouri, will be held at 2:00 p.m., Monday, January 5, 2015 at the Langston Street Chapel, Robertson-Drago Funeral Home.
Mr. Puckett died 9:35 p.m., Friday, January 2, 2015 at Brooke Haven HealthCare.  He was born April 19, 1935 at Donnan, Iowa to Howard A. Puckett and LaMyra Bright Puckett.  On November 8, 1959, he was married at the Union Grove Baptist Church near West Plains, Missouri to Wilma Lovan.  Mr. Puckett was a veteran having served with the United States Army.  He was a well know carpenter and enjoyed gardening and wood working.  Mr. Puckett loved his family and enjoyed taking the boys deer hunting. He served as a minister with the Full Gospel Church having pastored the Full Gospel Church of St. Louis for eleven years.
He is survived by his wife, Wilma Puckett, of the family home; three children, Bruce Puckett,  Fayetteville, Arkansas, Kevin Puckett, West Plains, Missouri and Charla Prewett, husband, Dion, West Plains, Missouri; six grandchildren, Jeremy Prewett, Jarod Puckett, wife, Haley, Jason Puckett, wife, Erica, Marissa Spencer, husband, Mat, Kevin Mark Puckett, Jr. and Jordan Collins, husband, Raylee; eight great-grandchildren; daughter-in-law, Nancy Puckett;  four sisters, Dora Lloyd, Georgia Midyett, Helen Ferrell, Virginia Puckett and Ruth Wade, husband, Arnold; sister-in-law, Wilma Puckett; brothers-in-law, Wayne Lovan, wife, Barbara, Dallas Lovan, wife, Janet and Rickey Lovan, wife, Reda; and a host of nieces and nephews.
His parents, two brothers, Connie Puckett and Ralph Puckett, one sister, Goldie Puckett, three brothers-in-law, one sister-in-law and his father-in-law and mother-in-law, Ray and Vivian Lovan, precede him in death.
Visitation will be from 6:00 until 8:00 p.m., Sunday, January 4th, at the Langston Street Chapel, Robertson-Drago Funeral Home. Burial will be in the Pottersville Cemetery. Memorial contributions may be made to the Pottersville Cemetery or Gideon Bible Society and left at Robertson-Drago Funeral Home.