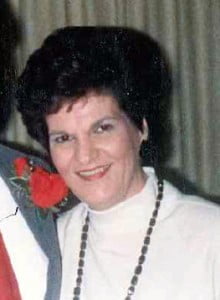 Irene Pierce, 76, Flippin, Arkansas, died at 5:24 p.m., Thursday, April 30, 2015, at Brooke Haven Health Care.
She was born July 29, 1938, at St. Louis, Missouri, to Herbie Otto Pearson, Sr. and Bernice Lucille Elizabeth Petes.  She was married in 1956 at St. Louis, Missouri, to Kenneth Pierce, who preceded her in death on August 17, 1996.  Before her retirement she worked as a dietary supervisor in hospitals and nursing facilities all over the country.  She enjoyed reading.  Mrs. Pierce was a Christian and attended His Place of Worship.
She is survived by five children, Mickey Pierce, wife, Diana, Clever, Oregon, Kenny Pierce, Mountain View, Missouri, Patty Strain, Flippin, Arkansas, Sherry Brannon, husband, Kevin, Arnold, Missouri and Larry Pierce, wife, Sherry, West Plains, Missouri; nine grandchildren; ten great-grandchildren; one brother, Herbie Pearson, Jr., wife, Barb, St. Louis, Missouri; and several nieces and nephews.
Her parents, one grandson, Josh Brannon and one sister, Diane Richards, precede her in death.
Private graveside services will be held at a later date.  Memorial Contributions may be made to Susan Komen Breast Cancer Research and may be left at Robertson-Drago Funeral Home.