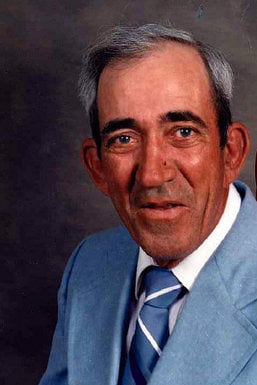 Funeral services for J. G. "Smokey" Batterton, 84, West Plains, Missouri will be held at 2:00 p.m., Wednesday, December 3, 2014, in the Rose Chapel at Robertson-Drago Funeral Home, under the direction of Robertson-Drago Funeral Home.
Mr. Batterton departed this life at 9:10 a.m., Saturday, November 29, 2014, at his home with his family by his side.
He was born August 14, 1930, at Moko, Arkansas, to Loyd Rennie and Beulah Arenda Emery Batterton. Smokey was united in marriage to Helen Matney on June 16, 1951 in Mammoth Spring, Arkansas. He was a veteran having served in the United States Army from 1952 – 1954 during the Korean Conflict. Smokey retired from Herrman Lumber Company after twenty-eight years. He was well known by many that he delivered lumber to their homes in and around the West Plains and Arkansas areas. Smokey enjoyed his bird dogs and quail hunting and also loved to deer hunt and fish with Helen and his family. He enjoyed spending time with family and listening to bluegrass music. Smokey was a member of the Church of Christ and attended the Curry Street Church of Christ, West Plains.
He is survived by his wife, Helen Batterton, of the family home; two daughters, Cheryl Finley, husband, Bruce and Lisa McAdams, husband, Dale, all of West Plains; five grandchildren, Melissa Marlow, husband, Chris, Franklin, Tennessee, Arenda Havens, husband, Raymond, Jesse Frazier, girlfriend, Cateland Collins, Amy Eades, husband, Shayne, Nathan McAdams, wife, Jolene, all of West Plains; twelve great-grandchildren; four brothers, Jack Batterton, wife, Peggy, Jewell Batterton, wife, Barbara, Jim Batterton, wife, Sharon and Terry "Hoppy" Batterton, all of Viola, Arkansas; four sisters, Wilma Dean Brown, West Plains, Janette Schlie, husband, Gary, Lee's Summit, Missouri, Sue Billings and Pamela Burns, husband, Larry, Viola, Arkansas; one brother-in-law, Roe Guffey, Bakersfield, Missouri; and many nieces, nephews and other relatives.
His parents, father-in-law and mother-in-law, Harve and Cepha Matney, one sister, Wanda "Blondie" Guffey, three brothers-in-law, Bob Halphin, Mylo Brown and Howard Billings, precede him in death.
Visitation will be held from 6:00 until 8:00 p.m., Tuesday at Robertson-Drago Funeral Home. Burial will be in the Watkins Cemetery, Sturkie, Arkansas. He will be greatly missed by all who knew him. Memorial contributions may be made to Watkins Cemetery, and may be left at Robertson-Drago Funeral Home.