Jack Frank Carrell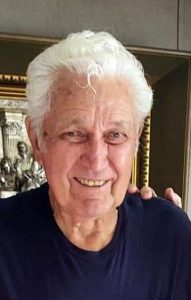 Funeral services for Jack Frank Carrell, 87, Moody, Missouri, will be held at 2:00 p.m., Thursday, December 30, 2021 at The Bridge Church, under the direction of Robertson-Drago Funeral Home.  
Mr. Carrell passed away at 9:33 p.m., Friday, December 24, 2021, at Ozarks Healthcare.
He was born July 31, 1934 at West Plains, Missouri, to Ralph Carrell and Lenora Powell Carrell.  Jack graduated from Westboro High School, at Westboro, Missouri.  He received The Lord Jesus Christ as his personal Savior at Tarkio, Missouri, in 1952.  He was a very devoted Christian, attending Assemblies of God Churches from the time of his conversion.  As a teenager, he worked for the Smith family, with whom he built a lifetime friendship.  At the age of nineteen, he joined the United States Navy, and served his country for four years during the Korean War.  Jack was a patriot, and was proud to be an American.  Jack married Earlene Maye Bryne while serving in the Navy.  They were married sixty years, living most of their life in California.  Upon his discharge from the Navy, he worked as a serviceman for Sears, and then for Aero Jet.  Jack graduated from the Highway Patrol Academy, and served twenty-six years with the California Highway Patrol.  Jack loved Missouri, and after the passing of his wife, he moved back to West Plains.  He was a kind, gentle man, very gracious, and loved by everyone who knew him.  He dearly loved his family.  He loved Bluegrass music, and faithfully attended our local HOBA Bluegrass festivals.  He enjoyed raising Kiwis, gardening, fishing, deer hunting, and he loved to travel.  After returning to Missouri, he sought out a relationship with Polly Shipley, who was also recently widowed, and whom he had known since she was ten years of age.  Jack and Polly were married on August 15, 2016.  They were blessed to enjoy five wonderful years together.  Their lives were built around their God and their church.  Jack Carrell was loved and respected by all who knew him.  He will be greatly missed! 
He is survived by Mrs. Polly Carrell, his present wife; one sister, Sarah Crane; one son, Jack Carrell Jr. and wife, Randi; one daughter, Susan Elaine Carrell Ortwein; two grandchildren, Dustin Jennings and wife, Aurora, and Kayla Carrell; and two great-grandchildren, Merissa Jennings and Arlo Jennings.
His parents, Ralph and Lenora Carrell, his wife, Earlene, and one brother, Bill Carrell, preceded him in death.  
Visitation will be held prior to the service, from 12;30 p.m. to 2:00 p.m. Thursday, at The Bridge Church.  Burial will be at Mount Zion Cemetery, South Fork, Missouri.  In lieu of flowers, the family requests friends to consider donations to The Bridge Church for its newly acquired facilities.  Jack was very excited about the potential growth of projects of the church.  He was especially interested in the development of RV parking and hookups, which would benefit guest ministries for the church and special events.  Memorial contributions may be left at or mailed to Robertson-Drago Funeral Home, 211 West Main, West Plains, MO  65775.