Jack Neal McNevin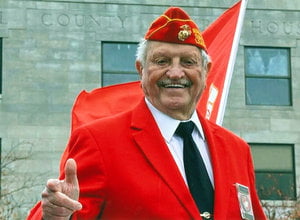 A graveside service for Jack McNevin, 98, West Plains, Missouri, will be held at 2:00 p.m., Sunday, September 11, 2022, at Oak Lawn Cemetery.
World War II veteran, former Postmaster and lifelong West Plains resident, Jack Neal McNevin, entered into eternal rest on Friday, March 11, 2022 at the age of 98. Jack always had goals in his life and his most recent goal was to make it to age 105 and be shot in the back by a jealous husband.
He was born in Burkburnett, Texas to Charles Frederick and Mae Gertrude Renfrow McNevin on October 1, 1923. He graduated from West Plains High School with the Class of 1942.  He joined the United States Marine Corps in 1943 and immediately left for World War II. He put his life on the line for his fellow Americans during the war, and while serving was awarded a Purple Heart for an injury sustained during the battle of Saipan. Jack married Marian Josephine Benefield on June 24, 1946 in Hernado, Mississippi; they were married for 70 years until Marian's death in March, 2017. They were blessed with 4 daughters. Upon returning from the war, he began his United States Postal Service career. Jack worked for 33 years at the West Plains Post Office and retired at age 55 in 1979 as Postmaster. He loved to tell people that he had been retired longer than he ever worked. Jack was an active member and president of the Missouri Postmaster Association and was an active member of the National Postmaster Association during his tenure with the postal service. Being involved with the Missouri Postmaster Association and National Postmaster Association allowed Jack and Marian the opportunity to travel throughout the United States. One such event they attended was the inauguration of President Jimmy Carter. In 2012, Jack along with Marian, enjoyed being a part of The Honor Flight to Washington DC to see the World War II Memorial. In December of 2021, The West Plains Chapter of the Daughters of the American Revolution honored Jack as Veteran of the Month. Jack served as a Rotarian, an Elder at the First Christian Church, and was a member of the local Marine Corps League. He was honored by the Marine Corps in 2010 for his work with Toys for Tots. In 2011 NHC of West Plains recognized Jack by naming a wing of the facility in his honor. Jack was the named 2016 Distinguished Zizzer Alumnus; and in 2018 he was awarded an honorary Associates Degree from Missouri State University-West Plains. He was given a key to the City of West Plains for his involvement in the Marine Corps and was recognized by the West Plains Board of City Pride for keeping West Plains a litter free community. Jack was an advocate for education by supporting the endowed scholarship that he and Marian established at Missouri State University-West Plains in 2006. Because of their significant financial contributions, Jack and Marian were awarded membership in the Missouri State University's Founders Club. Jack attended First Presbyterian Church in West Plains and was an active member of The Friends of the Garnett Library, the MSU-West Plains Grizzly Booster Club and the West Plains Zizzer Athletic Booster Club. Jack worked his entire life for the betterment of his favorite town, West Plains. After retirement there were many family roadtrip vacations taken with children and grandchildren. He was an avid weekly patron of the West Plains Public Library where he was treated like family. If Jack couldn't be found at the library or Walmart, he could easily be seen on the fairways of the West Plains Country Club sporting the most vibrant pants. Jack took great pride in being the oldest member of WPCC. Golfing with the 12:30 Gang was always enjoyed by Jack until the age of 95.
He is survived by four daughters, Susie Warden of West Plains; Sandy McNevin of Wellington, Kansas; Sally Watkins of West Plains; and Sunie Pace of West Plains; one brother, Donald Paul "Pat" McNevin, Bloomfield, Indiana; 7 grandchildren; 16 great-grandchildren; 4 great-great-grandchildren; along with many nieces and nephews.
Jack was preceeded in death by his wife, Marian, parents, along with brothers Charles, Bill and Tom, and sisters Lois Cormier, Mary Belle McNevin, Dorothy Hammond, Pauline Chesnut, Norma Jean Leader, and son-in-law, Bo Pace.
Jack's wishes were for his body to be donated to Genesis for medical research. A private family service will be held Saturday, April 9. A Celebration of Jack Mac's life with a reception sharing two of Jack's favorite things, friendship and memories, will be held from 1 to 4 pm at 204 East Main in West Plains at the Historic Post Office, where his postal career began.
Memorial contributions may be made to the West Plains Public Library or the McNevin Endowed Scholarship at Missouri State University-West Plains and may be left at or mailed to Robertson-Drago Funeral Home, 211 West Main, West Plains, MO  65775.