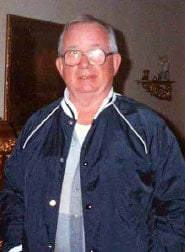 A Memorial Service for Jack Ray Bridges, 83, West Plains, Missouri, will be held at 10:30 a.m., Sunday, September 14, 2014, at River of Life Church of God of Prophecy.
On September 9, 2014, Jack Bridges went to the Kingdom of God for his eternal life of youth, health and glory. The Holy Spirit comforted and gently took him through his transition to his eternal life after only a few hours at Ozarks Medical Center.
He was born January 24, 1931. Jack was a quiet man, reserved and Godly with unbelievable inner strength. His eighty-three years of physical life began wearing the uniform the United States Marine Corps; after his military service he was the chief dispatcher for Halliburton for thirty-three years. Retirement brought him to the Ozarks where much of his family began and he truly enjoyed the nature and peacefulness it brought his family.
He is survived by his daughter, Cathy "Blondie" Bridges; grandson Peter Bridges, wife, Samantha, great-granddaughters, Ashlyn, Katlyn, Jaclyn and a great-great-granddaughter, Mykala; granddaughter Brandy Bridges Parker, great-granddaughters, Shealy, Macy and Elizabeth; great-great-granddaughter Amila; granddaughter Danielle Bridges, all of New Iberia, Louisiana; sister, Pat Arnold, husband, John, Carmi, Illinois; nieces, Teresa, State of Illinois, Linda, State of Oklahoma and Alicia, State of Wichita; nephews, Randy and Mike, State of Illinois, Rodney, New Orleans, Louisiana, Larry, Dennis and Randy, State of Florida.
His spirit will live on through all of us.
Final resting place will be in the Mt. Zion Cemetery, Olden, Missouri, where he will be placed with his wife of sixty-three years, Wanda Bridges, who departed July 5, 2014, son, Terry, mother and father, Ruby and Amos Bridges, sister Billie June and many other family members that have gone before him.
In lieu of flowers, memorial contributions may be made to Mt. Zion Cemetery, and may be left at Robertson-Drago Funeral Home.