James Albert Wilkerson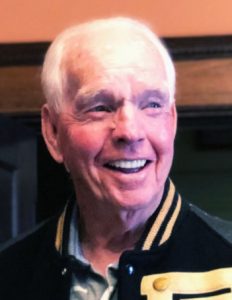 Funeral services for James Albert Wilkerson, 83, West Plains, Missouri, formerly of Poplar Bluff, Missouri, will be held at 2:00 p.m., Monday, October 25, 2021 at First Baptist Church, under the direction of Robertson-Drago Funeral Home.  
Mr. Wilkerson passed away at 3:15 p.m., Tuesday, October 19, 2021, at his home.  
He was born August 14, 1938 at Fisk, Missouri, the son of Benjamin Wilkerson and Della Haslip Wilkerson.  He was a star basketball player and graduated from Fisk-Rombauer High School in 1957.  He served our country in the Navy as a structural mechanic on the aircraft carrier USS Lexington from 1959 to 1963.  During his life, you might have found him fishing on the lake, sitting in his deer stand, hitting the fairways, driving the tractor, or traveling the country in his RV.  However, if you asked him, he would say his greatest accomplishment was being a dedicated Christian and loving husband and father.  His humility, kindness, and gentle spirit served as a witness of his love for Jesus during his life and will continue through those touched by his presence for generations to come. 
He is survived by his wife of thirty-four years, Vicki; three sons, Rick (Shelli), Poplar Bluff, Missouri, Kevin (Kate), Rogers, Arkansas, and Drew (Kathlene), West Plains, Missouri; two sisters, Louetta Keena, Poplar Bluff, Missouri, and Jeanette Winder (Jim), Jackson, Missouri; one brother, Kenneth (Donna), Melbourne, Florida; and four grandchildren, Abbey Garrett (Drew), Whitney Minson (Tucker), Tyler Wilkerson, and Ryley Wilkerson. 
He is preceded in death by his parents and five siblings, Nellevee Chronister, Virgil Wilkerson, Mildred Coulson, Mary Ellen Davis, and David Wilkerson.  
Visitation will be held prior to the service, from 1:00 to 2:00 p.m., Monday, at First Baptist Church.  Memorial contributions may be made to First Baptist Church Missions and may be left at or mailed to Robertson-Drago Funeral Home, 211 West Main, West Plains, MO  65775.