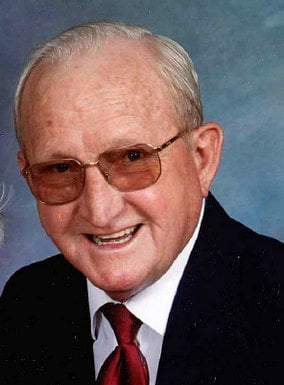 Funeral services for James Edwin Barrett, 83, West Plains, Missouri will be held at 10:00 a.m., Saturday, January 31, 2015, in the Rose Chapel at Robertson-Drago Funeral Home.
Mr. Barrett died at 12:15 a.m., Wednesday, January 28, 2015, at Ozarks Medical Center.
He was born November 20, 1931, at West Plains, Missouri, to Grace (Clark) and James Fred Barrett. James grew up in West Plains and helped support his family after the death of his father when he was 9 years old. He enlisted in the United States Air Force with special permission from his mother at the age of sixteen years to continue to help the family. Several years later while attending church in West Plains during leave, he met Mary Joyce Thornberry.  They fell in love and were married on May 17, 1950, and lived in Rapid City, South Dakota, where he was stationed.  He re-enlisted in the army and proudly served his country in the Korean War on the front line. Despite the dangers, he served a warm breakfast as the chief cook to the men in the trenches, and "Whitey" (nicknamed for his blond hair) became their favorite. During this time, Mary had a daughter, Dianne (Glovatsky).  After the war, James was stationed in France, and Mary and Dianne joined him for two years. He completed his tour of duty, and they returned to Jefferson City where he built houses for a living. Then Simpson Tobacco Company hired him as a salesman in Louisiana, Missouri, where he worked for many years. During this time, their family was completed by their son, Jerry. After resigning from the company, James bought a farm near Bowling Green, Missouri, and they enjoyed living in the country. In 1996 they retired to West Plains.  The Laughary's moved next door and became part of the family.  James and Mary enjoyed babysitting, providing transportation, and teaching the children music.  James seemed to enjoy life and wanted people around him to have fun, too. He made people smile with his stories and jokes. Many enjoyed his good cooking, bread, and produce from his garden. He is deeply missed as our beloved father, grandfather, and friend.
James is survived by his daughter Dianne; son, Jerry and wife Colleen; sister-in-law, Lynne (Thornberry) Lee; and eight grandchildren.
He is preceded in death by his wife, parents, son-in-law, Elmer Glovatsky and grandson, Brandon Glovatsky.
Mr. Barrett will lie in state from 4:00 until 9:00 p.m., Friday at Robertson-Drago Funeral Home. Burial will be in the Howell Valley Cemetery. Memorial contributions may be made to West Plains Community Garden or any charity of choice, and may be left at Robertson-Drago Funeral Home.