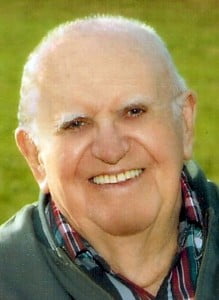 Graveside services for James Eugene Panter, 95, West Plains, Missouri, will be held at 2:00 p.m., Thursday, October 15, 2015 at Union Grove Cemetery, under the direction of Robertson-Drago Funeral Home.
Mr. Panter died at 6:22 a.m., Sunday, October 11, 2015 at Ozarks Medical Center.
He was born June 17, 1920, at Pikeville, Tennessee, to John L. Panter and Nora Smith Panter.  He was married in 1945 to Kinsella Anderson, who preceded him in death in October, 1979.  In 1981, he was married at West Plains, Missouri, to Barbara Downen Horn.  Mr. Panter was a veteran, having served with the United States Marines.  He worked for thirty-one years at Bridgestone-Firestone.  Mr.  Panter was a Christian.
He is survived by his wife, Barbara Panter; three children, Karol Vetter, Ricky Horn, wife, Debbie and Rebecca Hudgens, husband, Tom; ten grandchildren, Ashley Horn, husband, Jeff Macler, Stephanie Horn-Ellison, husband, Nick Ellison, Jenny  Horton, Amanda Hudgens, Megan Schmitt,  husband, Chris, Josh Hudgens, wife, Donna, Sam Hudgens, Matt Hudgens, Gabe Hudgens and Sara Hudgens; six great-grandchildren; and several nieces and nephews.
His parents, first wife, three sisters and two brothers, precede him in death.
Visitation will be from 6:00 until 8:00 p.m., Wednesday, at Robertson-Drago Funeral Home.  Memorial contributions may be made to Union Grove Cemetery and may be left at Robertson-Drago Funeral Home.