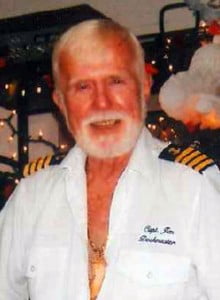 James Fannon Mertz, 81, West Plains, Missouri, was born June 9, 1934 at Oak Park, Illinois to Vernon Hamilton Mertz and Martha Ann Fannon Mertz. He passed away at 5:15 a.m., Friday, June 19, 2015 at the Blue Bird Mountain, West Plains, Missouri.
James grew up in Des Moines, Iowa, where he went to the Roosevelt High School. He was very talented and ambitious. In the spring of 1950, he married Bonnie Balintine at Bethany, Missouri. He was 15 and she was 14 and so much in love. Jim and Spanky were married 49 years. She passed away on August 7, 1998; they had one son, James David Mertz who was born on October 10, 1950 and passed away on October 30, 2002.
Jim had 2 brothers, John Mertz and wife, Phyllis, Des Moines, Iowa and Jerry Mertz, who passed away, and his surviving wife, Mary, Tampa, Florida; and several surviving nieces and nephews. Also surviving is his wife, Janet Lattion Marshell Mertz, two step sons, Matthew Marshell and Mark Marshell, wife, Amber; five grandchildren, Brittany and husband, Darrell Eason, Zena, Cooper, Katy and Dallas of West Plains; one great-grandchild, MacKenzie.
Captain Jim was a very strong man, a special person, very charming, witty, always could recite a jingle or make up one, well mannered. He went from a Fuller Brush salesman to 3rd in command at Terminal Transport Trucking Company. He loved the ocean and sailed the world, returning back to be dock master at Grove Isle Marina, Coconut Grove, Florida. There he rode out hurricane Andrew, saving many yachts. He enjoyed his sailboat and the Spanky Cruiser which he used to take people over to Bimini, Bahamas. Later, he owned and operated a 101 seat restaurant, the El Segundo, in Miami, Florida.  Captain Jim was well known for his fine food and hospitality. He loved life and enjoyed it to the fullest. He and Old Baldy (the airstream) traveled many miles across the nation, hunting, fishing and camping. He was a great hunter, both with guns and bow, practiced quick draw pistols, kick boxing, scuba diving and was a master chef and entertainer. He had impeccable character standards.  After Bonnie passed, Captain Jim moved to his Blue Bird Mountain in the Ozarks and on September 8, 2007 began a new life with Janet Lattion Marshell.  Jim was a Christian and said prayers many times a day.  Captain Jim had many friends near and far; three special friends, Darrol Huffman, Charlie Pendergrass and Bob Houston, who visited him faithfully several times a week.
A special thank you to Dr. Charles Morgan and all the Riverways Hospice staff, nurses, aids and volunteers.
Jim didn't want a funeral service but memorial contributions may be made in his honor to St. Judes Children's Hospital or Riverways Hospice and left at Robertson-Drago Funeral Home.  There will be a Celebration of Life at a later date.