James Floyd (Pard) Eades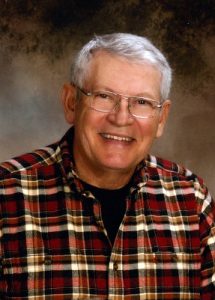 On Sunday, October 11, 2020, James Floyd (Pard) Eades, age 77, received his ultimate promotion and joined all those waiting and rejoicing with open arms in heaven. James was brought into the world on May 4, 1943 at Christa Hogan Hospital in West Plains, MO by his parents, Melvin James (Chick) and Dollie Eades (Bryson).  James grew up south of West Plains and attended Lost Spring School during his elementary years. He fondly recalled memories of the school and made lifelong friends from those times. Invaluable lessons and knowledge was gained through his dad and uncles. He learned to hunt, fish, cut timber, run a sawmill, a bulldozer and fix almost anything without spending a dime. He graduated from West Plains High School with the Class of 1961.  James met the love of his life on a hay ride in 1962, knew she was the one and married her on March 8, 1964 at China Union Church south of West Plains. With life by the tail and all their belongings in a '57 Ford Fairlane, he moved them to Kansas City. There he worked for Greenwell Tractor Supply, Great Northern Electric and Allis-Chalmers. Longing for country life, they moved back to West Plains in 1968 where he partnered with his dad at Eades' and Son Sawmill. He built his log home in the woods using the trees from the land he loved so much. It was also there James and Linda would work side by side for the remainder of his days. In the early 1970's James worked and learned the machine shop trade at his father-in-law's business, Bates Machine Shop. In 1974 James found his calling and began Eades' Machine Works. With just a high-school diploma, he was self-taught to become one of the most respected machinists in the area. After his retirement in 2010, James returned to the land and his farm. He loved all things fishing, bulldozing, combining seed, tractors, welding and sawmills.  But, most of all, he cherished his family.
He is survived by his wife, Linda, of the family home; two daughters, Jalynn Meidell and Cynthia Lee and husband, Troy, of West Plains. He was PawPaw to 5 grandchildren: Keegan Osborne, Lathan Osborne, Melinda Lee, Carly Osborne and Morgan Lee and one great-grandchild, Ellie Jo Osborne. He leaves one sister, Margret Wiltfong of DeSoto, Kansas; and a brother-in-law, Clifford Bates of Marshfield, MO. He was Uncle Pard to his Nephews; Paul Wiltfong (Regina) of Olathe, Kansas, Doug Wiltfong (Pam) of Kansas City, MO, Scott Bates (Brandie),of Erin, Tennessee, and nieces; Elaine Cornman (Wes) of Marshfield, Missouri and Candy Bates of Durant, Texas, and as well as several cousins, great nieces and nephews. He also leaves behind so many kind neighbors and friends.
James is preceded in death by his parents, son-in-law, Mike Meidell; brothers-in-law, Ronald Bates and David Wiltfong, sister-in-law, Renee Bates and a niece, Vicki Bates. Certainly not to be forgotten are his special fishing buddies that will be waiting with fishing poles in heaven: Mark Newman, Eddie Kimes, and Ernie Armstrong.
Mr. Eades will lie in state from 5:00 until 8:00 p.m., Friday, at the Langston Street Chapel of Robertson-Drago Funeral Home.   Funeral Services will be held on Saturday, October 17, 2020 at 10:30 a.m. at the Eades' Family Farm located 11 1/2 miles south on JJ Highway in West Plains. Markers will be posted. The dress will be very casual. Interment will be held immediately following the ceremony at Evergreen Cemetery.
Donations can be made in James' name to Evergreen Cemetery, The Michael J. Fox Foundation for Parkinson's Research or Autism Speaks and may be left at or mailed to Robertson-Drago Funeral Home, 211 West Main, West Plains, MO  65775.