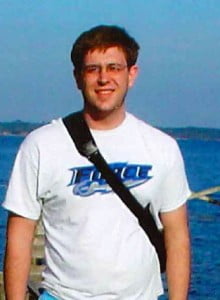 James "Jonathan" Woods died at his home on February 17, 2016.  He was born on April 19, 1979, at Springfield, Missouri, to Larry and Evie Woods.
After graduating from West Plains High School, he completed his Associate's Degree at Southwest Missouri State University, West Plains, a Bachelor's of Fine Arts Degree at Arkansas State University, Jonesboro, a Master's of Higher Education at Southeast Missouri State University, Cape Girardeau and began an education Doctoral Degree from St. Louis University.  Jonathan had previously taught and worked at Southwest Missouri State University, West Plains.  Prior to that, he taught at Hunan Normal University in China.  He loved traveling, discussing theology and visiting with family and friends.  He was a member of Genesis Church and had founded a Christian Art Ministry.
He is survived by his parents, Larry and Evie Woods; one uncle, Bob Woods, wife, Joan; two aunts, Nancy Flanigan and Sandy Boss; numerous cousins; and Ti Bit, his beloved side-kick.
His grandparents, Jim and Hazel Woods and Jay and Marie Boss and two uncles, Darrell Flanigan and Fred Boss, precede him in death.
Jonathan was kind and generous, sharing his time and talents.  He will be greatly missed.
Condolences may be expressed through memorial contributions to The Epilepsy Foundation of America and may be left at Robertson-Drago Funeral Home.