James Norman Ficken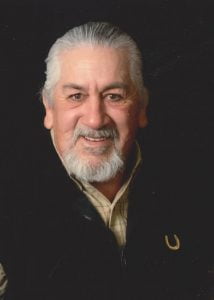 A celebration of life for James Norman Ficken, 67, West Plains, Missouri, will be held at 2:00 p.m., Sunday, November 22, 2020 at First United Methodist Church, under the direction of Robertson-Drago Funeral Home.
Mr. Ficken passed away from an amazing life on November 19, 2020, at his home.
He was born April 1, 1953, in Howell County, Missouri, to Albert Ficken and Marcella Norman Ficken.  Jim grew up in West Plains and had already purchased land before graduating the Class of '71, beginning a lifelong love of farming and raising animals.  Jim was a foreman for Ozark Asphalt for over 30 years, paving most of the highways in southern Missouri.  He served with the National Guard during that time and raised cattle as well.  Along with farming, Jim was an avid fisherman, turkey and deer hunter, taking advantage of every season.  With the help of close friend James Rhein, Jim started West Plains Bee Club and was dedicated to helping beginning beekeepers.  In the life of honeybees and their hive habits, Jim saw the miracle of God's creation and loved sharing his knowledge of bees with others.  Jim will be remembered as a man who loved swapping stories, could be depended on for anything and never met a stranger. 
His children Jessica Collins and husband John, Joanna Myers and husband Keith, were the joy of his life.  He treasured time with them, his well-loved eight grandchildren, Taylor Bunch, Rorie, Chase and Isaac Collins and Evy, Shelby, Maverick and Eleanor Myers, along with is dear friend, Nathan Cropper.  On September 2, 2006, Jim and Jodie Stephens Ficken married, building a beautiful life together that expanded his family to include Jodie's two children, Nathan Ruch and Ariel Ruch.  Jim embraced Jodie's Mama Betty, her brothers, sisters and extended family as his own.  Jim has five remaining beloved siblings, Dennis Ficken and wife Sandy, Colleen Justus, Max Ficken and wife Bertha, Kenny Ficken and wife Linsa, Caroline Hanserd and sister-in-law Daisy Ficken. 
Loved ones going before Jim are his parents, brother Derald, and brother-in-law John Justus.
Memorial contributions may be made to First  United Methodist Church or Evergreen Cemetery in honor of Jim's service on the cemetery board and may be left at or mailed to Robertson-Drago Funeral Home, 211 West Main, West Plains, MO  65775.