James Randall (Whistle) Slavings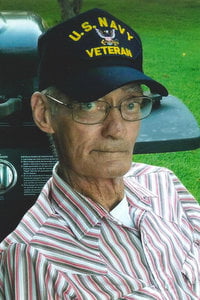 Graveside services for James Randall Slavings, 76, Caulfield, Missouri, will be held at 2:00 p.m., Wednesday, November 23, 2022 at Amy Cemetery, under the direction of Robertson-Drago Funeral Home.  
Mr. Slavings passed away at 9:26 a.m., Sunday, November 20, 2022, at his home.  
He was born November 11, 1946, at Hayti, Missouri, to James Henry Slavings and Vertie Rosetta Mitchell Slavings.  On January 10, 1970, he was married at Bridgman, Michigan, to Margerite Cleland; it was a cold, snowy day.  Mr. Slavings was a veteran, having proudly served in the United States Navy as Boatswain's Mate Third Class June 1965 – April 1969.  He worked at Bendix in St. Joe, Michigan for a number of years.  He was a lifetime member of the Bayou Mason Lodge No. 365 and served as Treasurer from 2009 – 2021.   
He is survived by his wife, Margerite Slavings; two daughters, Colleen Hensley and husband, Dwayne and Marian Luna and husband, Brad; three grandchildren, Amanda Taylor and husband, Halsey, Lucas Hensley and wife, Jamie and Skylar Luna and wife, Courtney; three great-grandchildren, Jenaca and Judd Hensley and Haddie Mae Taylor; special friend, Gavin Pearson; four brothers, Slim Slavings and wife, Diane, Carl Slavings and wife, Debbie, Steve Slavings and Robert Slavings and wife, Gina; one sister, Linda Evans; one sister-in-law, Elaine Slavings; one brother-in-law, Terry Cleland; and several nieces and nephews.
His parents, one granddaughter, Charlotte Marie Luna, one brother, Alvin Slavings, his father-in-law and mother-in-law, Robert and Ozella Cleland, sisters-in-law, Karen Slavings and Emma Cleland, brothers-in-law, Clifton Evans and Douglas Cleland, preceded him in death.  
The family would like to extended their sincerest heartfelt thanks to Dr. Roylance and Dr. Martin for the exceptional management of James' medical needs and to his wonderful hospice team, especially Lisa, Boomer and Roberta; we will never forget how each of you bonded and cared for our loved one, "Pinky Promise."  Memorial contributions may be made to St. Jude's Children's Research Hospital and may be left at or mailed to Robertson-Drago Funeral Home, 211 West Main, West Plains, MO  65775.