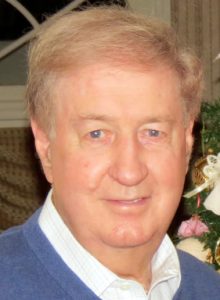 Funeral services for James William Walker, 85, West Plains, Missouri, will be held at 2:00 p.m., Friday, September 7, 2018 at the Langston Street Chapel of Robertson-Drago Funeral Home.
Mr. Walker passed away at 12:33 a.m., Wednesday, September 5, 2018 at Ozarks Medical Center, surrounded by loved ones after a hard fought battle as a result of two recent heart attacks.
He was born August 21, 1933 in a small rock house in Calico Rock, Arkansas.  His family moved to Gainesville, Missouri where he spent his childhood and young adult life. During the sixth grade, a bond was formed with a young lady by the name of Lois Payne whom would later become his wife on March 28, 1953. They were married 64 years, and lived in Gainesville, West Plains, and Cabool. After Lois' passing in 2017 James' zest for life diminished as he grieved deeply. James' strong work ethic began as a young man at Walker Lumber in Gainesville. James and Lois' work life together began in 1969 establishing Walker Insurance Agency and later Owens Insurance Agency, finally retiring in 2013. James and his family joined First Baptist Church in 1960. He was a devoted Christian whose faith sustained him until his passing. The friendships he and Lois formed at FBC would last a life time. All those touched by these friendships cherish these memories dearly. One trait that James passed to his sons, Jerry and Michael, was the love for tennis and running. Many were not aware of his quiet competitiveness which he instilled in his boys. James, Jerry and Michael spent sun up to sun down playing endless sets of tennis. Lois took great pride while watching her husband and boys play and packed many a cooler with sandwich and drink. Lois was jokingly referred to as the tennis widow. James later found a love for running that would lead to his participating in 5K's, 10K's and ultimately a half marathon. Those who knew James enjoyed his sense of humor and love for sharing stories of past. His friendly and kind demeanor lightened any conversation with laughter that will echo in the hearts of family and friends.
Family that will continue to treasure memories are two sons; Jerry Walker and wife, Chrissy and their daughter Sophia, of West Plains, Missouri; Michael Walker and wife, Anush, of Burbank, California; granddaughter, Hillary Tugwell and husband, Jim, and their children, Emma, Kate, and James, of West Plains, Missouri.; brother, Bobby Walker and wife Nancy of Gainesville, Missouri; and special friend, Bobbie Casey of West Plains, Missouri.
His parents, Charlie and Debra, his wife, Lois, three brothers, Charles Jr., Walter, and Sid, and two sisters, Irene and Mary, preceded him in death.
Visitation will be held from 1:00 until 2:00 p.m., Friday, at Langston Street Chapel of Robertson-Drago Funeral Home.  Burial will be in the Howell Memorial Park Cemetery.  In lieu of flowers, memorial contributions may be made to USTA (United States Tennis Association) or First Baptist Church and may be left at Robertson-Drago Funeral Home.