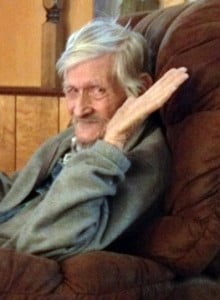 Funeral services for James William Morgan, 88, West Plains, Missouri, will be held at 11:00 a.m., Friday, May 8, 2015, in the Rose Chapel at Robertson-Drago Funeral Home.
Mr. Morgan died at 2:10 a.m., Monday, May 4, 2015, at NHC Healthcare.
He was born August 4, 1926, at White Oak, Missouri, to Henry Jackson Morgan and Ellie Marie Dean Morgan.  On December 7, 1948, he was married at Paragould, Arkansas, to Dealie Akins.  Mr.  Morgan was a veteran, having served with the United States Army during World War II and before his retirement, he worked as a truck driver.  He enjoyed being outdoors, raising a garden and fishing.
He is survived by his wife of sixty-seven years, Dealie Morgan, of the family home; six daughters, Shara Morgan, St. Peters, Missouri, Katherine McCoy, husband, Ric, Crestview, Florida, Patricia Samoylova, husband, Pavel, New Orleans, Louisiana, Jacqueline Horseman, husband, Ruben, Fort Belknap, Montana, Rita Livingston, husband, Jim, Long Beach, Mississippi and Carolyn McLendon, husband, Russell, Fort Walton Beach, Florida; one adopted son, Larry Akins; twenty-three grandchildren; several great-grandchildren; ten brothers; three sisters; and many nieces and nephews.
His parents, three children, James William Morgan, Jr., James Michael Morgan and Sandra Lee Lane, six brothers and two sisters, precede him in death.
Visitation will be held from 6:00 until 8:00 p.m. Thursday, at Robertson-Drago Funeral Home.  Burial will be in the Dripping Springs Cemetery.  Memorial Contributions may be made to Alzheimer's Association and may be left at Robertson-Drago Funeral Home.