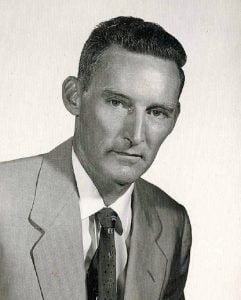 Funeral services for James Windell Hall, 93, West Plains, Missouri, will be held at 10:00 a.m., Wednesday, February 15, 2017 in the Rose Chapel at Robertson-Drago Funeral Home.
Mr. Hall passed away at 12:00 p.m., Sunday, February 12, 2017 at NHC Healthcare.
He was born August 6, 1923, in Ozark County, Missouri, to Frank Hall and Pearl Shipley Hall.  Mr. Hall graduated from Bakersfield High School and earned a Bachelor's degree from Missouri State University, Springfield and a Master's degree from University of Missouri, Columbia.  In 1947 he was married to May Canady.  He began teaching in Ozark County early in life until duty called and he served his tour in World War II in the European Theatre.  He was with the United States Army's 106th Infantry Division.  Upon his return, he continued his education and taught in the Dora and West Plains school systems until he retired at age fifty-five after thirty-five years of service.  Teaching and working with students was one of his greatest passions and enjoyment in life.  He remained in touch with his students and peers throughout his years.  Mr. Hall was a long time member of the Ball Church of Christ, Dora, Missouri and later a current member of Curry Street Church of Christ, West Plains.
He is survived by his wife of seventy years, May Hall; three children, Cynthia Morrison and husband, Rayburn, Barry Hall and wife, Rita and Sue Lynn Collins and husband, Richard; five grandchildren, Shaun Gentry, Nick Gentry, Kristi Huff, Misty Davis and Richelle Collins; two step-grandchildren, Mike Morrison and Rebecca Morrison Shelden; several great-grandchildren and step-great-grandchildren; one sister, Jewell Nicotra; and several nieces and nephews.
His parents, five brothers, Sherman, Carl, Ralph, Hubey and Leo and one sister, Betty, precede him in death.
Mr. Hall will lie in state from 5:00 until 9:00 p.m., Tuesday, at Robertson-Drago Funeral Home. Burial will be in the Ball Cemetery.  Memorial contributions may be made to the St. Jude's Children's Research Hospital and may be left at Robertson-Drago Funeral Home.