Jessie Lee Young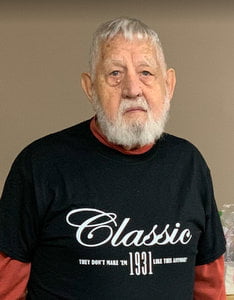 Funeral services for Jessie Lee Young, 91, West Plains, Missouri, will be held at 2:00 p.m., Friday, January 27, 2023 in the Rose Chapel of Robertson-Drago Funeral Home.    
Mr. Young passed away at 3:23 a.m., Monday, January 23, 2023, at his home.  
He was born December 19, 1931, at Trail Holler, Missouri, to Ruben Jefferson and Nina Mae Trail Young.  On June 4, 1955, he was married at West Plains, to Mildred Pliler.   Before his retirement, Mr. Young worked at Southwest Truck Body (now known as DRS).  He enjoyed the outdoors, fishing and hunting and liked to do woodworking.  The joy of his life was his grandchildren and great-grandchildren.  Mr. Young faithfully attended and served the Lord at Pentecostal Revival Center for a number of years.  He was currently attending Assembly of God Church at Pomona. 
He is survived by his wife, Mildred Young, of the family home; two children, Dianna Rhoads and husband, Larry and Carla Huddleston and husband, Donald, all of West Plains; three grandchildren, Brian Rhoads and wife, Ashley, Ashley Caldwell and Hailey Bunch and husband, Logan; eleven great-grandchildren, Parker, Brady, Ellie, Remington Gage, Skyler, Chase, Isabella, Jacelynn, Kolby, Anton and Sutton Reese; one brother, Les Young, Springfield, Missouri; one sister, Bessie Warren and husband, Don, Tallahassee, Florida; one brother-in-law, Gary Pliler and wife, Beverly, Republic, Missouri; two sisters-in-law, Lois Ellison and Brenda Pliler, both of West Plains; and numerous nieces and nephews. 
His parents, six brothers, Howard, Delbert, Elbert, Earl, Leon and Aught Young, three sisters, Alma Alsup, Inis McClellan and Opal Stiner, six brothers-in-law, Otis Moorhead, Bill Ellison, Bobby Ellison, Jack Collins, Ted Pliler and Dallas Pliler and two sisters-in-law, Betty Moorhead and Faye Collins, preceded him in death.  
Visitation will be held from 6:00 until 8:00 p.m., Thursday, at Robertson-Drago Funeral Home.  Burial will be in Howell Memorial Park Cemetery.  Memorial contributions may be made to St. Jude's Children's Research Hospital or Gideon's Bible Society and may be left at or mailed to Robertson-Drago Funeral Home, 211 West Main, West Plains, MO  65775.