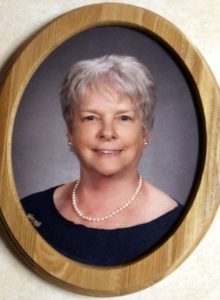 Joan Lucille Roush, "Maggi", entered into eternal life on August 17, 2016 at the age of seventy-four years.  The ones who will continue her legacy are her husband and love of 58 years, Davis F. Roush, Jr.; the pride of her life; children Scott Roush and wife Melissa, Kelli Roush Killen and husband Matthew, and Rick Roush; the joys of her life; grandchildren Heather Roush Rogers and husband Marc, Erin and Michael Killen, Sage, Seth, and Sean Roush; and great-grandchildren AJ and Wyatt Rogers.
Other family and friends who were very special to Joan and brought her so much happiness; Rob and Rick Bean; Aunt Betty Ream, Cousin Debbie Ream and Cousin Dan Ream; David and Lynda Malone; Janie Wilson; Dean Wells; Sharon Gaston; Janina West; Mikki McMichael; Nate and Teddy Simmiok; Vernieca and Ryan Luerssen; Charles Epperson and Susan Epperson Smith; Bill Ferguson; Dan and Bertie Bailey; Ron and Karen Cafourek; Dick and Jimmie Morger, Gerald Smith; Martin Winslow; Kate Huff; Dr. Michael Moore; Bob and Nancy Pekarek; Bob and Donna Ross; Dave and Katie Black, and her many friends at Hospice.
Those who greeted her upon arrival are her brother Charles "Max" Rowlett; parents Lester and Maxine Rowlett; in-laws Davis F. and Thelma Roush; Uncle Pete Ream; Grandmother Almer Ream and grand-daughter Shelby Dawn Roush.
Joan was born September 19th 1941 on a rural Howell County farm. She lived her early life working on this farm and educating herself for life. Married in 1960 she started her family and worked at Howell Oregon Electric. As her family grew, she continued to advance and support them with owning and running a restaurant for many years, then working with the state finding jobs for the unemployed, and later she entered nursing school in her early forties and began another career helping others. Throughout this time she assured her family knew the gospel by living it every day.  With retirement, she continued an ongoing service oriented life dedicated to her family and others and spent many hours volunteering with Hospice care. Always striving to glorify God in her daily actions, she was a continuous example of steady grace and dignity. She will be missed and will carry on through the many people she touched and influenced.
Graveside services for Joan Lucille Roush, will be held at 6:30 p.m., Friday, August 19, 2016 at Howell Memorial Park Cemetery, under the direction of Robertson-Drago Funeral Home.