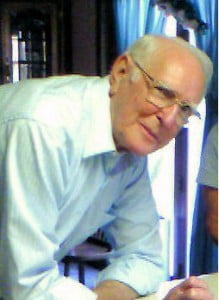 Funeral services for Joe W. Minge, 90, West Plains, Missouri, will be held at 10:00 a.m., Tuesday, April 28, 2015, at First Christian Church, under the direction of Robertson-Drago Funeral Home.
Mr. Minge died at 3:20 p.m., Saturday, April 25, 2015, at West Vue Nursing Center.
He was born September 30, 1924, at Cumi, Arkansas, to John Ezra Minge and Ollie Wright Minge.   His mother passed away in 1927 and in 1929 his father married Sara Tackett.  Joe received his education in and around Bakersfield, Missouri and in 1942 he moved to Wichita, Kansas with his father and step-mother.  On September 3, 1947, he was married at Winfield, Kansas, to Lena Cantrell, who preceded him in death April 4, 1997.   On July 17, 1999, he was married at the First Baptist Church, Myrtle, Missouri, to Eureta Cantrell Chester.   Before his retirement, Joe worked in research and development at Boeing Aircraft in Wichita for forty-one years.  Joe was an avid golfer and his favorite golf partner was his grandson, Jeff Minge.  Joe also loved watching baseball games.  He was a member of the Albert Pike Masonic Lodge, Wichita, Kansas.  Mr. Minge was a member of the First Christian Church, West Plains, where he served on the board and as a deacon.  Joe was a good neighbor and devoted husband.  He loved his church family, his own family and his many friends.
He is survived by his wife, Eureta Minge, of the family home; the children of Joe and Lena: Don Minge, Mt. Pleasant, South Carolina and Brenda Minge, St. Louis, Missouri; step-children, Tom Hill, Jr., wife, Nancy, Wichita, Kansas and Barbara Dunn, husband, Ron, Wichita, Kansas; numerous grandchildren and great-grandchildren; two sisters, Ann Burchett, Greenville, Texas and Pat Baker, Oakland, Arkansas; and Eureta's family and friends, many nieces, nephews, cousins and a host of friends.
His parents and wife, Lena, precede him in death.
Visitation will be held from 6:00 until 8:00 p.m. Monday at Robertson-Drago Funeral Home.  Burial will be in the County Line Cemetery.  Memorial Contributions may be made to Riverways Hospice and may be left at Robertson-Drago Funeral Home.