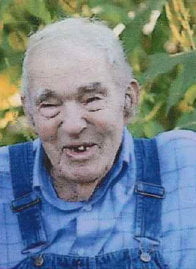 Funeral services for John Crawford Eagleman, 91, Caulfield, Missouri, will be held at 10:00 a.m., Thursday, January 21, 2016 at Prairie Grove Church of Christ, under the direction of Robertson-Drago Funeral Home.
Mr. Eagleman passed away at 9:22 a.m., Sunday, January 17, 2016 at his home.
He was born September 24, 1924, at Leota, Missouri, to Edward Barkley Eagleman and Ella Mae Crawford Eagleman.  On February 12, 1947, he was married to Goldie Anna Burden.  Mr. Eagleman received his education at Prairie Grove Elementary and graduated from Bakersfield High School.  He attended Prairie Grove Church of Christ, being a lifelong member.  Mr. Eagleman was a veteran, having served during World War II with the United States Merchant Marines.  He was a member of American Legion at Bakersfield, Missouri.  He, along with his brothers, Roy and Ralph, enjoyed going on the Honor Flight together to Washington, D.C. in 2011.  He worked at the International Shoe Factory and was a carpenter and a lifelong farmer, living on the family farm that has been in the Eagleman name for over one hundred years.  The farm was recognized as a "Century Farm" in 2004.  He served on the Free Union Cemetery Board and the Moody Community Center Board for many years.  John was a wonderful father, grandfather and uncle and was loved by many.
He is survived by his wife of nearly sixty-nine years, Goldie Eagleman, of the family home; four children, Edith Winchester and husband, Rodney, Roger Eagleman and wife, Darley, Connie Eagleman and Tim Eagleman and wife, Charm, all of Caulfield, Missouri; nine grandchildren, Shasta Foster and husband, Ron, Darrick Eagleman and wife, Tiffany, Jason Hensley and wife, Mandy, Matthew Hensley, Benjamin Hensley and wife, Jessica, Sarah Huett and husband, Joel, Missy Gastineau and husband, Steve, Holly Stephens and husband, Bryson, Emily Richardson and husband, Reggie; twenty-four great-grandchildren, Shaelyn, Sheyenne and Shaniah Foster, Megan, Alex, Jackson, Anderson and Cameron Hensley, Benjamin, Jr. and Chloe Hensley, Perri, Luke, Caleb, Andrew and Autumn Huett, Sharee, Adrianne and Breanna Gastineau, Bailey, Kaitlynn and Mason Stephens, Jon, Remington and Darren Richardson; step-grandchildren, Belinda and Donnie; one step-great-grandson, Gary Gastineau; two step-great-great-granddaughters, Taylor and Harper Gastineau; one brother, Joe Eagleman and wife, Doris, Lawrence, Kansas; three sisters, Reba Sigler, Moody, Missouri, Lu Harper and husband, Fred, Ocala, Florida and Wilma Boyd and husband, Houston, Odessa, Missouri; and many nieces and nephews.
His parents, five brothers, Virgil, Edwin, Allen, Roy and Ralph Eagleman and two sisters, Grace Mahan and Fern Harber, precede him in death.
Visitation will be from 4:00 until 6:00 p.m., Wednesday, at Robertson-Drago Funeral Home. Burial will be in the Free Union Cemetery.  Memorial contributions may be made to the Paragould Children's Home and may be left at Robertson-Drago Funeral Home.