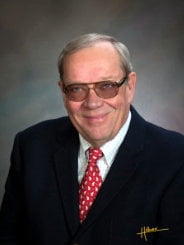 A Celebration of Life for John N. Wiles, 69, West Plains, Missouri, will be held at 1:00 p.m., Wednesday, September 9, 2015, followed by a visitation, at The First Christian Church, under the direction of Robertson-Drago Funeral Home
John died Thursday, September 3, 2015, at Ozarks Medical Center in West Plains.
He was born October 6, 1945, at West Plains, Missouri, to Dr. Jack N. Wiles and Betty Coon Wiles.  John graduated from West Plains High School with the Class of 1963 and went on to graduate from Drury College (University) in Springfield, Missouri in 1967. While at Drury, John was a member and officer of Sigma Nu Fraternity. He then pursued his law degree from Tulane University in New Orleans, Louisiana. While at Tulane, he served as a member of the Tulane Law Review and graduated in 1970 with his Juris Doctor in Law.
John married the love of his life, Georgiana Dickey on August 12, 1966 in Cabool, Missouri.  John and Georgiana have two children: John (Jay) N. Wiles, II and Dee Georgiana Wiles Evans.
John and Georgiana moved to West Plains in July of 1970, where, after passing the Missouri Bar exam, he established his law office. In 1971, John was appointed Howell County Prosecutor and served two terms. In addition to his law office, John took great pride in the development of Wiles Abstract and Title Company. John also served on the board of the Missouri Land Title Association in various capacities and ultimately as President of the Missouri Land Title Association from 1991-1992.
John believed strongly in his community and took every opportunity to give back to West Plains in many ways, including through:
1) Recognition and award for his Pro Bono legal work with juveniles in the 37th Judicial Circuit in 2000;
2) Habitat for Humanity;
3) Industrial Development Corporation of Howell County/West Plains
4) West Plains Rotary Club, as both a member and former President;
5) West Plains Library Board
6) President of the West Plains Library Foundation 2003-2004 and a member from 2001-2006;
7) Long-standing member of the West Plains Chamber of Commerce and Chamber "Citizen of the Year" in 2009;
8) Member of the Missouri State University Development Board from 2003-2009;
9) Member of Mt. Zion 327 Masonic Lodge of West Plains;
10) Missouri State University Advisory Board;
11) West Plains Country Club lifelong member and President of the Board for two terms;
12) West Plains Bank & Trust Company Board of Directors for 30 years
Survivors include his wife of 49 years, Georgiana Dickey Wiles of West Plains; Son, John N. Wiles, II, his wife, Billie and children, Michael and Destiny of West Plains and Jimmy of Springfield; Daughter, Dee Georgiana Wiles Evans, her husband Randal and children, Robert and Brandon, of West Plains. John is also survived by his brother, Tom Dee Wiles and his wife, Gayle, of Springfield; and his sister, Elizabeth Ann Wiles Godwin and her husband, Dr. Lehman Godwin, of Springfield; and four nieces and nephews.
Mr. Wiles will lie in state from 5:00 until 9:00 p.m., Tuesday, at Robertson-Drago Funeral Home.  A private burial will be held.  In Lieu of flowers, the family is requesting donations to the Dr. Jack N. Wiles Scholarship at the West Plains branch of Missouri State University and may be left at Robertson-Drago Funeral Home.