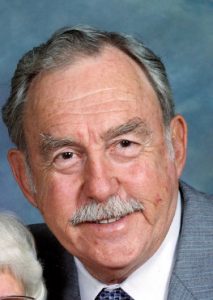 A celebration of life service for John William "John Bill" Murrell, 87, West Plains, Missouri, will be held at 2:00 p.m., Sunday, August 18, 2019, at First Christian Church.
Mr. Murrell passed away at 11:23 p.m., Tuesday, August 6, 2019 at Mercy Hospital, Springfield, Missouri.
He was born June 14, 1932, at Mammoth Spring, Arkansas, to James Robert "Jim" Murrell and Henrietta Dixon Murrell.  John Bill graduated from West Plains High School with the Class of 1950 and received his professional dry cleaning training in Silver Springs, Maryland.  Mr. Murrell was a veteran, having served with the United States Navy.  On December 9, 1951, he was married at West Plains, Missouri, to Betty Jo Griffin, who preceded him in death on October 18, 2013.  Mr. Murrell was the owner and operator of Murrell's Cleaners until his retirement in 1994.  He was a member of Troop 61 of Boy Scouts and was scout master for over 20 years.  He was also an Eagle Scout and helped many boys become an Eagle Scout; he received the Silver Beaver Award, the highest honor within the Boy Scouts, which was voted on by his peers.  John Bill was also a member of the West Plains Rotary Club, West Plains Chamber of Commerce and Ozark Mountain Long Rifle Club where he had served as secretary and treasurer for many years. He enjoyed traveling the United States and abroad with his wife, Betty.  Mr. Murrell was a lifelong member of First Christian Church of West Plains where he had served as a Deacon, Elder, Trustee, Sunday School teacher and Bible study teacher.
He is survived by three children, Rhea Murrell Edwards, Mountain Home, Arkansas, Johnny Murrell and wife, Charlene, West Plains and James Murrell and wife, Marcella, West Plains; eight grandchildren, Terry Edwards, Jr., and wife, Gina, Robert W. Edwards, Rebecca Jo Ann Edwards and special friend, Robert Jordan, John William "J.W." Murrell, III and fiancé Alyssa, Ann Elizabeth Murrell, Melissa Marie Bentley and husband, Jason, James Wade Murrell, Jr. and Katy and Benjamin Edwin Murrell; several great-grandchildren; one great-great-granddaughter; one brother-in-law, Barry Griffin and wife, Rhonda and their children, Jonathan and Natalie, West Plains; sister-in-law, Carrie Murrell, Atlanta, Georgia; six nieces and one nephew.
His parents, wife, step-mother, Dorothy Murrell, one brother, James Robert Murrell, Jr. and one sister, Emily Jane Conrad, preceded him in death.
Memorial contributions may be made to First Christian Church and may be left at Robertson-Drago Funeral Home.  A private interment will be held at a later date at Howell Memorial Park Cemetery.