John Davis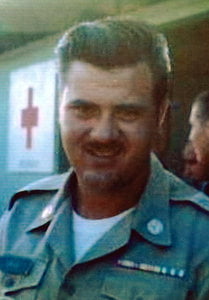 Funeral services for John Davis, 75, Dora, Missouri, will be held at 11:00 a.m., Saturday, July 16, 2022 at First Baptist Church, West Plains, Missouri, under the direction of Robertson-Drago Funeral Home.  
Mr. Davis passed away at 10:48 p.m., Saturday, July 9, 2022, at NEA Baptist Memorial Hospital, Jonesboro, Arkansas.  
He was born April 4, 1947, at Jonesboro, Arkansas, to William A. Davis and Clara Evelyn Kimberland Davis.  John graduated from Bay High School, Bay, Arkansas, with the Class of 1965.  Mr. Davis was a veteran having proudly served with the United States Army in Thailand and Vietnam.  On May 24, 1968, he was married at Truman, Arkansas, to Karen Woods.  John was a farmer and owner of the Crider Store.  He was known as "Big John", was an avid coon hunter and enjoyed bird hunting, horses and his coon hunting mule.  Mr. Davis was a long time member of First Baptist Church.
He is survived by his wife, Karen Davis, of the family home; three children, Jeff Davis and wife, Arta,  Paul Davis and wife, Julie Ann and Garren Davis and wife, Misty, all of West Plains; twelve grandchildren, Courtney Duke and husband, Anthony, Paydan Clayton and husband, Jason, Brady Davis, Enick Fox, Taylor Davis, Christopher Davis, Shelbee Davis Easley and husband, Grant, Hannah, Ryan, Andrew, Jaden and Emma Davis; eight great-grandchildren, Aark, Korbin and Jase Clayton, Gavin, Willa and ViVi Duke and Hunter and Remington Davis; one sister, Norma Evans, Trumann, Arkansas; one sister-in-law, Deborah Hubbard and husband, Bobby, Hueytown, Alabama; and many wonderful nieces and nephews .
His parents and two sisters, Jewell Watson and Barbara Cothren, preceded him in death.  
Visitation will be held from 10:00 to 11:00 a.m., Saturday at First Baptist Church.  Burial will be at Ledbetter Cemetery.  Memorial contributions may be made to St. Jude's Children's Research Hospital and may be left at or mailed to Robertson-Drago Funeral Home, 211 West Main, West Plains, MO  65775.