Joseph Wayne Smith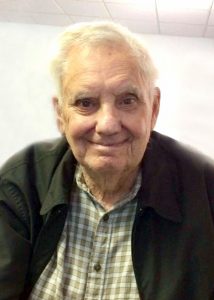 Funeral services for Joseph Wayne Smith, 88, West Plains, Missouri, will be held at 10:00 a.m., Tuesday, December 17, 2019 in the Rose Chapel at Robertson-Drago Funeral Home.
Mr. Smith passed away at 9:10 a.m., Thursday, December 12, 2019 at Ozarks Medical Center.
He was born March 19, 1931, at Pomona, Missouri, to Granville Wellington Smith and Viva Lee Burgess Smith.  On July 6, 1951, he was married at Salem, Arkansas, to Fern O'Neal Gannon, who preceded him in death on October 27, 2018, after sixty-seven years of marriage.  Mr. Smith was the eldest of five children born during the Great Depression on a small farm near West Plains. He learned about hard work and sacrifice from an early age. He graduated from WPHS in 1949 and served in the Army during the Korean War. He taught Auto Mechanics at WPHS and was co-owner of Ozarko Construction which built many buildings in the West Plains and south central Missouri area. He owned many rental properties personally and jointly with Cameron/Smith Rentals. He was a well-known cattleman owning as many as 400 head at a time during his prime. He spent many days in the hayfield and many winter mornings breaking ice and feeding hay. He was also a professional coffee drinker with a seat reserved at 14 Junction. Several winter mornings his truck would be left running in the parking lot while he drank his coffee because there was a newborn baby calf warming up in the floorboard. He loved to reminisce and tell stories about growing up in the country. He served on the board at Faith Assembly of God Church in West Plains when it was first getting started. He also served on the board at Howell-Oregon Electric which included time as President of the Board. He was a kind father and grandfather. He always had a smile and never complained even as his health deteriorated. He was saved and baptized at a young age and currently attended Calvary General Baptist.
The family would like to thank the caregivers for all of the kindness shown this past year: Vera Alsup, Elizabeth Bentz, Janella Schafer, Sharlene Lankford, Sharon Kapphahn, and Mirriam Stout.
He is survived by five children, Peggy Baty-Willis, Cherokee Village, Arkansas, Bobby Smith and wife, Dawn, West Plains, Phyllis Crider and husband, Dennis, West Plains, Keith Smith and wife, Kambra, St. Charles, Missouri and Christina Jean Kerley and husband, Stace, West Plains; nine grandchildren, Travis Baty and wife, Renee, Bradley Baty and wife, Kim, David Baty and wife, Joanna, Joey Smith and wife, Renae, Robby Smith and wife, Brandie, Morgan Goss and husband, Jacob, Angie Akers, Kortney Broeker and husband, Jarod and Lauren Kerley; ten great-grandchildren; three brothers, Donnie Smith, West Plains, Lamar James Smith, Tulsa, Oklahoma and Howard Smith and wife, Nancy, Palm Beach, Florida; one sister, Cora Jane Stevens, Bolivar, Missouri; and several nieces and nephews.
His parents, wife, one son-in-law, Frank Akers and one daughter-in-law, Tammy Smith, preceded him in death.
Visitation will be held from 6:00 until 8:00 p.m., Monday, at Robertson-Drago Funeral Home.  Burial will be in the Howell Memorial Park Cemetery.  In lieu of flowers, the family requests Memorial Contributions may be made to The Gideon Bible Society and may be left at Robertson-Drago Funeral Home.