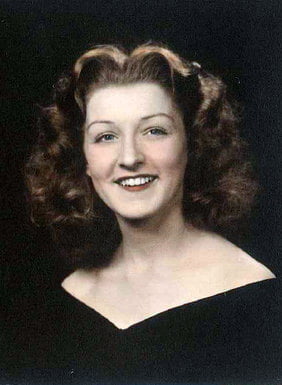 Funeral services for Juanita Rose Wideman, 89, West Plains, Missouri, will be held at 3:00 p.m., Sunday, June 29, 2014, in the Rose Chapel at Robertson-Drago Funeral Home.
Mrs. Wideman died at 10:45 p.m., Monday, June 23, 2014, at her daughter's home.
She was born June 27, 1924, at St. Louis, Missouri, to Otto William Level and Margaret Mary Elizabeth Schupfer Level. On December 29, 1945, she was married in St. Louis County to Elven James Wideman, who preceded her in death on August 29, 2010. Mrs. Wideman was a homemaker and loved her family dearly. She was a devoted wife, mother, sister, grandmother, great-grandmother and great-great-grandmother. At the age of thirteen she was baptized at Point Breeze Baptist Church in St. Louis Missouri. For the past forty years, Mrs. Wideman was a member of Bethel Baptist Church where she was a member of the Women's Missions.
She is survived by her daughter, Mary M. Lewis, husband, John, West Plains, Missouri; two granddaughters, Laura Stewart, husband, Lowell, West Plains, Missouri and Tammy Lair, Bakersfield, Missouri; eight great-grandchildren, Alan, Caleb, Randy, John, Lauren, Brooke, Austin and Cayden; one great-great-grandchild, Lowell; one brother, Wayne Level, wife, Grace, State of Florida; two sisters-in-law, Vivian Nelson, husband, Edward, Bonne Terre, Missouri and Marilyn Level, Black, Missouri; and several nieces and nephews.
Her parents, husband, two sons, Kenneth James Wideman and John David Wideman, one brother, Larry Level and three sisters, Dorothy Wind, Eileen Cane and Yvonne Eckstein, precede her in death.
Mrs. Wideman was a woman of great strength and was a source of encouragement to her family and all who know her. She had a deep belief and faith for the many trials that life gave her. This time the Lord has called home one of his strongest stars.
Visitation will be held from 6:00 until 8:00 p.m., Saturday at Robertson-Drago Funeral Home. Burial will be in the South Fork Cemetery. Memorial contributions may be made to St. Jude's Children's Research Hospital in memory of Kenneth James Wideman, and may be left at Robertson-Drago Funeral Home.