June Elaine Alsup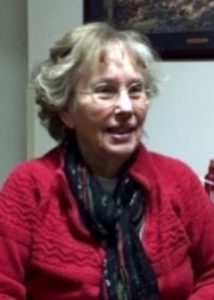 A graveside service for June Elaine Alsup, 87, Springfield, Missouri, will be held at 10:00 a.m., Monday, July 20, 2020, at Burnham Cemetery, under the direction of Robertson-Drago Funeral Home.
Mrs. Alsup went into the open arms of her Savior on April 10, 2020.
She was born June 9, 1932 in New London, Connecticut to Carl Oscar Freeman and Carin Sundt Freeman.  June married Donald Lewis Alsup in New London, Connecticut on October 27, 1951 and they had 54 years together prior to his death in 2005. June had a second life love at the age of 78 with John Jenkins of Clever, Missouri, who preceded her in death in 2016. She is also preceded in death by her parents, her sister Margaret Freeman and her brother Ralph Freeman.
June was a loving wife, homemaker and mother. After raising her family, she graduated from LPN School in 1976. She loved music, sewing and traveling. June was a member of the West Side Family Life Center and her love of God was evident in how she raised her family and in the care she gave to her patients.
June is survived by her brother, David Freeman of Augusta Montana and five children: Mark Alsup (Dorothea) of Springfield Missouri, Deborah Stratton (Kenny) of Springfield Missouri, Susan Winkelmann (Robert) of Columbia Missouri, Donna Alsup (Ken) of Pomona, Missouri and Barry Alsup (Cathleen) of Pomona, Missouri. June is also survived by 11 grandchildren: Rob, Chris, Jill, Eric, Molly, Maggie, Luke, Matthew, Jesse, Adam and William as well as 16 great-grandchildren.
June's family wishes to express their gratitude for the wonderful care June received at the Manor at Elfindale during her later years with a special thank you to Janna, Angela and Bobby. In lieu of flowers, memorial contributions are suggested to the employee assistance program at the Manor at Elfindale in Springfield, Missouri.