Junior Clay Dillin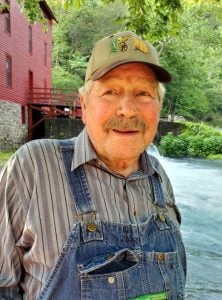 Graveside services for Junior Clay Dillin, 85, West Plains, Missouri, will be held at 2:00 p.m., Friday, December 16, 2022, at Howell Memorial Park Cemetery, under the direction of Robertson-Drago Funeral Home.  
Mr. Dillin passed away at 7:00 a.m., Tuesday, December 13, 2022, at Mercy Hospital in Springfield, Missouri.
He was born July 5, 1937, at Jonesboro, Arkansas, to Leo and Virginia (Cleghorn) Dillin.  On February 22, 1961, he was married at Lemay, Missouri, to Luella Pinnon.  Mr. Dillin was a veteran, having served with the United States Army.  He had been a welder at a shipyard in Saint Louis.  He loved to talk and tell long stories.  He especially loved his family.  Mr. Dillin was a member of Bethel Baptist Church.
He is survived by his wife, Luella, of the family home; three children, Mike Dillin and wife, Jane, Cabool, Missouri, Mark Dillin and wife, Tammy, Caulfield, Missouri, and Roger Dillin and wife, Traci, Arnold, Missouri; three grandchildren, Rebecca, Austin, and Sarah; three great-grandchildren; and two sisters, Fay Stahl, Mountain Home, Arkansas, and Elsie Pinnon and husband, Edward, South Fork, Missouri.
His parents, one brother, and one sister preceded him in death.
Memorial contributions may be made to South Central Baptist Missions Fund and may be left at or mailed to Robertson-Drago Funeral Home, 211 West Main, West Plains, MO  65775.