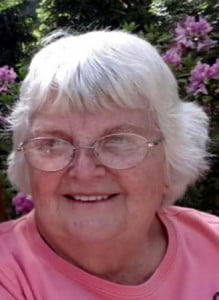 Funeral services for Kathleen Opal Cross Cockrum, 73, Moody, Missouri, will be held at 10:00 a.m., Wednesday, December 30, 2015 in the Rose Chapel, Robertson-Drago Funeral Home.
Mrs. Cockrum passed Thursday, December 24, 2015 at Moody, Missouri. She was born September 24, 1942 at Des Moines, Iowa to Clare C. Cross and Lela Opal Tool Cross. On February 1, 1964, she was married at West Plains, Missouri to Dave Cockrum, Jr. Mrs. Cockrum relocated with her husband, to numerous naval bases throughout Mr. Cockrum's twenty years with the United States Navy. Upon settling in Moody, Missouri, Mrs. Cockrum worked for the International Shoe Company in West Plains until 1994; then she went to work for Ozarks Medical Center retiring in 2004. She enjoyed traveling, quilting, cooking and spending time with family and friends.
She is survived by her husband of 51 years, Dave Cockrum, Jr., of the family home; three children, Clela Shawn Benedict, husband, Richard, Columbia Station, Ohio, Cleo Fawn Cockrum, husband, Mark, West Plains, Missouri and Matthew Scott Cockrum, wife, Kathryn, West Plains, Missouri; six grandchildren; nine great-grandchildren; one brother, Gary John Cross, wife, Marge, West Plains, Missouri; three sisters, Clela Borysiewicz, San Diego, California, Patricia Adey, Altoona, Iowa and Cleo Mahoney, West Plains, Missouri; lifelong friends, Margaret Beane, West Plains, Missouri and Joy Fanelli, Ellijay, Georgia; and numerous nieces and nephews.
Her parents, one granddaughter, and five brothers, McKinley, Jack, Delbert, Ted and Bernie, precede her in death.
Visitation will be from 6:00 until 8:00 p.m., Tuesday, December 29th, at Robertson-Drago Funeral Home. Burial will be in the Moody Cemetery.