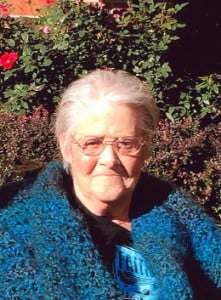 Funeral services for Kathryn Bell Snavely, 64, West Plains, Missouri, will be held at 10:00 a.m., Monday, November 30, 2015 at Trinity Worship Center, under the direction of Robertson-Drago Funeral Home.
Kathryn passed away at 11:07 p.m., Thursday, November 26, 2015 at NHC Healthcare.
She was born February 18, 1951, at Norwood, Missouri, to Ralph Earnest Snavely and Nellie Louise Raney Snavely.  Kathryn was the second of four daughters.  The family moved to Kansas City, Kansas in 1952.  "Katie Bell", "KK" graduated from Rosedale High School with the Class of 1971.  She was a member of the high school choir and her church youth group.  She had a passion for music ministry, played the tambourine and sang solos frequently.  Her voice was an inspiration of personal worship to many.  Kathy worked at Putsch's Cafeteria for nine years while living in Kansas City.  After retirement with her parents in 1987, they lived in Norwood Missouri for seventeen years.  Kathy attended Norwood Assembly of God where she continued her ministry of music, sign language and children's ministry.  They settled in West Plains, Missouri in 2009.  Kathy worked as a housekeeping supervisor at Lamplight Village until her health deteriorated in November 2014.  Despite the fact that she could no longer work, she continued to visit the residents frequently bringing her smile, her love of Jesus and her selfless encouragement to all she knew.  Kathy loved to read her bible and circle the words of Jesus "wearing out" many bibles.  The word was always a lamp unto her feet and a light to her heart.  She literally brought joy, happiness and love to all when she entered any room.  Kathy attended Trinity Worship Center with her mother.  She was very proud to be a breast cancer survivor in 2012.
She is survived by her mother, Nellie "Dorothy" who nurtured and cared for her every day of her sixty-four years on Earth; her sisters, Rebecca "Ann" Creek and husband, Gary and Lori Beth Ranallo and husband, Greg all of Kansas City and Deborah "Debbie" Dyche and husband, Bob, Indianapolis, Indiana; six nieces and nephews; sixteen great-nieces and great-nephews; the love of her life, Kenneth Dunbar, who she met at Camp Sunshine; her adoring double-cousins, Sheila Newton and husband, Mike, Richard Snavely and wife, Shirley, Iris Sevart and husband, Rusty and Bryan Snavely and wife, Marsha.  Her life was full and she leaves many aunts, uncles, cousins and friends to mourn her passing.
She is preceded in death by her father Ralph and Grandmother Jewell and is now dancing with the angels.
Visitation will be from 4:00 until 6:00 p.m., Sunday, at Robertson-Drago Funeral Home. Burial will be in the Thomas Cemetery, Norwood, Missouri.