Laurel Thompson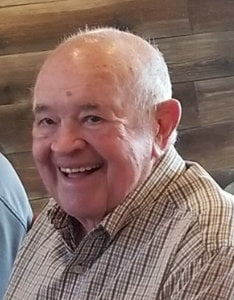 Funeral services for Laurel Thompson, 90, West Plains, Missouri, will be held at 10:00 a.m., Saturday, December 17, 2022 at First Christian Church, under the direction of Robertson-Drago Funeral Home.   
Laurel Ray Thompson, beloved son, husband, father, and grandfather, passed into eternity Wednesday morning, December 14, following a brief illness. 
How can one write an obituary for someone who, by the grace of God and the love of another, made you?  I am not certain it is possible, but I will try. 
A life-long resident of West Plains, Laurel was born at his parents' modest home on a high hill (where the county health department now sits) in West Plains on May 31, 1932. He no doubt lived the typical busy life of a small-town boy in the 1930s and '40s. He was fortunate to enjoy being surrounded by many aunts, uncles, and cousins on both his mother's and father's side of the family. He lived at several locations in the West Plains area and even in Seattle for a time when his father was in the Navy. His solo train trip to Seattle when he was 12—armed with more than one fried chicken and a plethora of doughnuts–made for a favorite story.  Laurel began his education at home with his mother, who taught him numbers, letters, and how to tell time as she went about her household tasks. He started his formal schooling in a one-room schoolhouse and then attended D.W. Reese school on Grace Avenue. He graduated with the West Plains High School class of 1950, having attended classes at Central, which is now Looney Hall on the Missouri State University campus.  It was in high school that Laurel met the love of his life, Margaret Myrtle Morrell. Margaret had moved to West Plains from Kansas with her parents when she was 16. The sweet couple married on March 17, 1951, in a small ceremony at the parsonage of the First Christian Church.  After marriage, Laurel and Margaret moved to Kansas City while Laurel attended Central Technical Institute to attain his First-Class Radio Telephone license. When he finished his training, he and Margaret returned to West Plains where they have forever after made their home.  Laurel is well-known for his long career in radio broadcasting and his civic engagement from the 1950s onward. For him and his family, his greatest accomplishments were his long marriage to Margaret and their family of five children. He said more than once that his goal was to help West Plains grow and prosper, to be a place where his children could grow up to live and work and raise their own families. It was for this that he selflessly and tirelessly labored at work and civic projects that he believed in.  Laurel's remarkable list of achievements began in his youth. Active in Boy Scouts, he was an Eagle Scout and was awarded the Order of the Arrow. In the mid-1950s, he was instrumental among community members who wanted their own hospital. Ozarks Medical Center came into being due fundraising efforts that allowed anyone, especially those of modest means, to support the financial goals. Once the hospital was a reality, Laurel was a walking blood bank for the hospital. He further served the hospital for 8 years as a board member and vice-chair.  We cannot enumerate all of Laurel's achievements here but will give some highlights. Laurel may be best known for his 40-year career in radio broadcasting at KWPM and in the Neathery cable television system. He enjoyed a second career in retail, and a third career as Public Information Officer for the City of West Plains.  He worked for 13 years on the Chamber Advisor Committee for SMSU-West Plains, was a Rotarian for 47 years, a member of the West Plains Industrial Development Corporation and part of the Ozarks Development Corporation, West Plains Aero Club, West Plains Tourism Development Council, the Missouri Corridor Coalition (chairman), the Highway 63 Corridor group (co-chair), and the West Plains Civic Center Board. He was active in the National Association of Broadcasters and the Missouri Broadcasters Association, where he served as president. The list of accomplishments and honors goes on and on. He was probably most gratified by his work for the creation and administration of Ozarks Medical Center, his work to bring SMSU-West Plains into being, and ODC's Ozark Sheltered Industries in Pomona. Education and opportunity for all were close to his heart.  All his loved ones are so proud of, so awed by, all that he has accomplished and all the lives he has touched. He never sought the spotlight, though. For us today, the importation thing is that he was a loving husband, father, grand- and great-grandfather. He modeled service and humility all his life, in all aspects of his life. Taking family members, young and old alike, on their first plane ride; taking his children and grandchildren fishing—especially trout fishing on the White River—and hunting were among his greatest joys. He loved telling stories, and he had so many. He was a walking family and community historian. He will be remembered for his ready smile, his ready laugh, his ornery sense of humor, and his unwavering commitment to his family and his community.   
He is survived by his wife, Margaret Thompson, of the family home; three children, Jim Thompson and wife, Sarah, West Plains, Russell Thompson and wife, An, Soddy Daisy, Tennessee and Vickie Petkovic, West Plains; nine grandchildren; ten great-grandchildren; one brother, Leon Thompson, West Plains; and several nieces and nephews. 
His parents, one daughter, Sherrill Ann Thompson, one son, Steven Kent Thompson and one grandson, Jeffrey Scott Thompson, preceded him in death. 
Mr. Thompson will lie in state from 5:00 until 8:00 p.m., Friday, at Robertson-Drago Funeral Home.  Burial will be in the Oak Lawn Cemetery.  Memorial contributions may be made to West Plains Rotary Club for the backpack program and may be left at or mailed to Robertson-Drago Funeral Home, 211 West Main, West Plains, MO  65775.