LaVonne Emma Chappell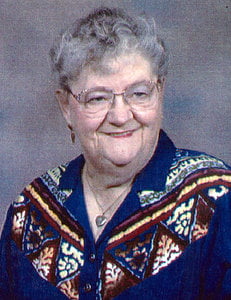 Funeral services for LaVonne Emma Chappell, 89, West Plains, Missouri, will be held at 10:00 a.m., Saturday, October 9, 2021 in the Rose Chapel at Robertson-Drago Funeral Home.  
Mrs. Chappell passed away at 2:41 p.m., Saturday, October 2, 2021, at Ozarks Medical Center.  
She was born December 23, 1931, in Cedar County, Iowa, to Charles Britcher and Emma Lange Britcher.  On March 6, 1948, she was married at Clarence, Iowa, to Harvey Chappell, who preceded her in death on December 11, 1994.  LaVonne enjoyed talking, mingling and making friends; she loved her volunteer work at Ozarks Medical Center and First Baptist Church.  She raised her five children and enjoyed cooking and caring for them and always provided them with food, clothing and a loving home.  She was a wonderful cook and was famous for her bread and wacky cake.  Mrs. Chappell was a member of First Baptist Church.
She is survived by four children, Connie Knutsen and husband, Gene, Mechanicsville, Iowa, David Bradford Chappell and wife, Donna, Camdenton, Missouri, Dot Brown and husband, Everett, Mountain View, Missouri and Kathy Croney and husband, Ray, West Plains, Missouri; fourteen grandchildren; forty-five great-grandchildren; fourteen great-great-grandchildren; one sister-in-law, Alecia Meyers, Stanwood, Iowa; and several nieces and nephews 
Her parents, step-father, Edward Meyers, husband, ,one infant son, Randy, one son, Walter Chappell, one grandchild, Dedrick Gray and one brother, Roland Meyers, preceded her in death.    
Visitation will be held from 6:00 until 8:00 p.m., Friday, at Robertson-Drago Funeral Home.  Inurnment will be at a later date at Cureall Cemetery.  Memorial contributions may be made to Cureall Cemetery and may be left at or mailed to Robertson-Drago Funeral Home, 211 West Main, West Plains, MO  65775.