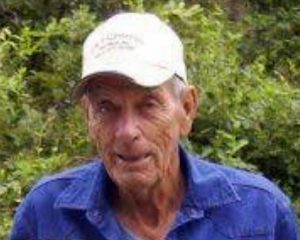 Graveside services for Leon Whisenant, 79, West Plains, will be held at 11:00 a.m., Tuesday, February 28, 2017, at Stuart Union Cemetery, located south of the family farm, under the direction of Robertson-Drago Funeral Home.
Mr. Whisenant entered into eternal life on Thursday, February 23, 2017.
He was born March 27, 1937 at Bakersfield, MO to Ida R. Whisenant Koelling.
He was married to Carol Woolf on June 1, 1983 at Salem, Arkansas. On September 13, 1985, his daughter, and light of his life, Amanda was born.  He was a long time resident of West Plains.   Over the years he had many jobs, from truck driving, farming, off-shore oil work, and equipment operating. He had been employed by S&S Quarries where he enjoyed friendship with a special boss, Randy Adkisson.
In his younger days Leon was an avid fisherman and known for his sucker grabbing skills. He enjoyed being outdoors, planting a large garden from which he often shared produce with friends and neighbors, and he loved deer season, when the family farm was turned into deer camp for family and friends far and wide ,a tradition that has continued for 30plus years.  Leon was loved by so many and was a friend to all. He knew that life's true riches were not found in material things, but in the simplicity of a life filled with love and filled with family, friends, and great food. Leon never met a stranger and was good and kind to all he knew and met. His love, generosity and humility will live on in the lives of all those he knew.   Leon came to know Christ at a young age and enjoyed friendship with Pastor Logan Friend.
He is survived by his wife, Carol Whisenant, West Plains; daughters, Amanda Whisenant and fiance, Joseph Crain, Kansas City and Shelly Fuller, Mesa, Arizona; two grandsons David and Jacob Fuller; great-grandson, Austin Fuller; three step-children, Jeffrey, Robin and Douglas Collins; special son-in-law, Bruce Fuller, Cottage Grove, Minnesota;  five siblings whom he loved immensely, Theodore (Candy) Koelling II, children Leslie, Catrina, & Theodore III, Green Bay, Wisconsin; Linda Roark, children, Junior, Marion, and Marsha, Branson, Missouri, David (Kim) Koelling, children Matthew & Jacob, Belvidere, Illinois;  Darrel (Wanda) Koelling, children Nathan, Ida, MaKollie, and Kullins, Salem, Arkansas; and Margaret Flatt, child Heather, Kirbyville, Missouri; and a host of great-nieces and nephews which he loved hearing about.
While Leon's passing to eternal life leaves a void in so many of our hearts, we rejoice knowing his health is restored and he is reunited with so many he loved. He is preceded in death by his parents Ida and Ted Koelling, his grandparents and many beloved aunts and uncles.
"Christ is risen from the dead, trampling down death by death, and to those in the tombs He bestows life."
Visitation will be from 6:00 until 8:00 p.m., Monday, at Robertson-Drago Funeral Home.   Memorial contributions may be made to Stuart Union Cemetery may be left at Robertson-Drago Funeral Home.