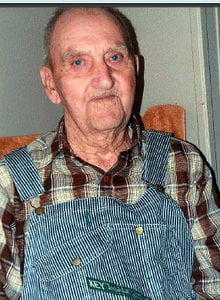 Funeral services for Lester Leland Smith, 96, West Plains, Missouri, will be at 10:00 a.m., Tuesday, November 25, 2014, in the Rose Chapel, Robertson-Drago Funeral Home.
Mr. Smith died 10:44 a.m., Friday, November 21, 2014 in West Vue Nursing Center. He was born April 17, 1918 at Graham, Missouri to Jimmie Jackson Smith and Elsie Pauline Smith.  He graduated from the Mound City, Missouri high school and was the first athlete to letter in all four sports at the Mound City High School.   On May 25, 1946, he was married at West Plains, Missouri to Gladys Lottie Crow who preceded him in death on December 28, 1997.  Mr. Smith was a veteran having served with the United States Army during World War II as a Ward Medic.  He was a well known farmer in the West Plains area having bought his first calf and started plowing with horses at the age of 10.  Mr. Smith had served on the Board of Directors of the Doty School and had served for thirty years on the Advisory Committee of Farm Credit.  Mr. Smith was baptized at the Hilltop Chapel and served as a board member for seventeen years.
He is survived by one daughter, Mary Stone, husband, Ray, West Plains, Missouri; two grandchildren, Rodney Gene Stone, wife, Wendy, Granite Falls, North Carolina and Mendy Bassham, husband, Michael, Moko, Arkansas; three great-grandchildren, Tucker Stone, Colt Stone and Shae Bassham; one sister, Frances Hall, West Plains, Missouri; and his nieces and nephews, Frances Weightman, Jerry Watkins, Pat Luther and Bobby Watkins.
His parents, wife, one great-grandson, Zachery Ty Stone, one sister, Charlotte "Toots" Watkins and one nephew, Terry Hall, precede him in death.
Visitation will be from 6:00 until 8:00 p.m., Monday, November 24th, at Robertson-Drago Funeral Home. Burial will be in the Evergreen Cemetery. Memorial contributions may be made to the Evergreen Cemetery and left at Robertson-Drago Funeral Home.