Lloyd Franklin Best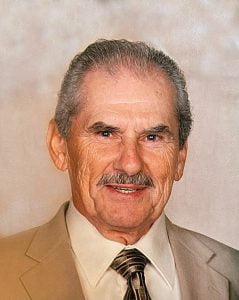 Lloyd F. Best finished his life on this earth and went to his eternal home in heaven on November 28, 2021.  Lloyd was born on February 11, 1940 in Pocahontas, Arkansas, to Owen and Helen Best.
He graduated from Thayer High School in May, 1959.  He joined the United States Navy where he was stationed on the Destroyer USS John R. Pierce.  He married Katherine Hackett on February 9, 1960.  After discharge, he eventually returned to Missouri, purchasing Best Shoe Store in 1968 and then added The Shoe Rack in 1971.  Lloyd was in business thirty-five years in Thayer, and always worked hard for the betterment of his community.  He was active as President of Chamber of Commerce and President of Thayer School Board.  He enjoyed going to work every day and truly missed seeing his customers after retiring in 2003.  Lloyd loved people and lived a full life.  He enjoyed trail rides, turkey hunting with friends, and had a good time bowling at West Plains and Mountain Home.  He loved to watch football, especially the THS Bobcats, and was proud to be a "Bob Codger".  Lloyd was a member of the First Baptist Church and had a true servant's heart.  He drove many people to the doctor or the hospital and was ready to help wherever he was needed.  He spent many hours working on the church grounds, and worked with the Baptist Disaster Chainsaw Group during the ice storm of 2009.  Life was simple to Lloyd, you did what needed to be done, treat others as you want to be treated, and laugh often.  He did enjoy a good story and laughed heartily at himself. 
Lloyd is survived by his wife, Katherine, of sixty-one years; daughters, Margaret Jane Simer and husband, Danny, and Suzanne Elizabeth Langley and husband, Greg; beloved grandchildren, Jessica Nichole Smith and husband, Jonathan, and Samuel Alan Simer and wife, Annalise; precious great-grandchildren, Bayleigh Addison McGuire, Ethan Daniel Simer, Jenner Keith Smith, Jemma Katherine Smith, Jude Kensington Smith, and Lloyd Stephen Simer; siblings, Herbert Best and wife, Gloria, Mary Best, Leon Best and wife, Dora, Helen Jeanne Hass, Pat Saenger and husband, Leo, and Margaret Unze and husband, Wayne; and sisters-in-law, Jane Romines and husband, Ken, and Pat Best.
Lloyd was preceded in death by his beloved grandson, Tyler Owen Simer, sister, Theresa Cortner, brother, Paul Best, brother-in-law, Bill Hass, two nephews, and his parents.
Arrangements are planned for a celebration of Lloyd's life after the New Year.
In lieu of flowers, please honor his life with a donation to "Best Foot Forward" where funds will be used to purchase shoes for the children in our area who need them.  Memorial contributions may be left at or mailed to Southern Bank or any Best family member, or to Robertson-Drago Funeral Home, 211 West Main, West Plains, MO  65775.