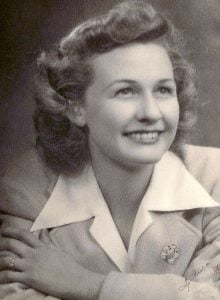 Celebration of Life Services for Lois Martha Moore, 99, West Plains, Missouri, will be held at 1:00 p.m., Tuesday, June 7, 2016 at the First Baptist Church of West Plains.
Mrs. Moore passed away peacefully at 2:36 p.m., Saturday, June 4, 2016 at her home near West Plains.
Lois Martha Chapin was born on December 23, 1916 in West Plains, Missouri to Oscar Norman Chapin and Mary Alice Morrison Chapin, the latter of whom arrived in Howell County on a covered wagon from Tennessee.  Lois grew up on the homestead farm her pioneer family established south of town. Her father died when she was 18 months old, so Lois was raised by her mother, who tilled the soil, selling eggs and farm produce for a living. Lois attended a one-room schoolhouse at the old Howell Valley School, one year of high school at Brandsville, and then finished at West Plains High School, where she played on the girls' basketball team.  Later when SMSU (now MSU) opened in West Plains, she was part of the inaugural class and attended two years there.  She vividly recalled hearing the blast and seeing the glow from the 1928 Dance Hall Explosion in downtown West Plains. Lois rode horseback for transportation and horse raced with other children for enjoyment.  In the 1920s, when Lois was 11, an uncle gave the family a car. Since her mother could not drive, Lois became the family driver.  As a girl visiting relatives in Tulsa, she had a front-row spot at a parade for Charles Lindberg, who had just returned from his famous, trans-Atlantic flight. Lindberg smiled directly at her, inspiring her fascination with flying.  Occasionally when driving, Lois would glimpse an airplane over Howell County and follow it until it landed in a nearby field. She would pay the pilot a dollar to take her up for a spin.  During the Great Depression, Lois helped her mother garden and farm, selling and trading farm goods to keep food on the table.   After high school, at age 17, Lois moved to Springfield and worked at the Springfield Flying Service in the downtown airport. She began flying lessons (secretly, because her mother didn't know), a very daring and rare hobby for a young woman in the early 1930s. She was the second woman to fly solo out of the Springfield airport.  She returned to West Plains and, along with another pilot from the area, petitioned the head of the local Chamber of Commerce to build an airport here. Her petition was rejected, but a seed had been planted. She later became a Captain in the volunteer Civil Air Patrol, helping law enforcement by scouting the terrain from above.  As a young woman in the mid- 1930s, Lois took a job with the Production Credit Association in West Plains, helping farmers obtain loans in a time when agriculture was southern Missouri's largest economic resource. The office on West Main Street oversaw eight rural counties.  She also worked for the credit bureau offices in Crane and Gainesville.
Lois Chapin was married to the love of her life, Richard (Dick) Dewey Moore II, on November 6, 1943 in Corpus Christi, Texas.  A Marine fighter pilot, Dick flew off a carrier in the Pacific; Lois lived in Santa Barbara, California while she awaited his return from war.  After the war, the couple returned to West Plains and were approached by the FBI with an offer to become a team of private investigators.  Instead, Dick practiced law and Lois helped set up the office on the West Plains town square and worked there.  When Ozarks Medical Center was established in the 1960s, it had no volunteers; Lois took leadership of a local chapter of the American Red Cross "Gray Ladies," a strong corps of women identified by their gray uniforms and white caps. Lois also worked as a "Gray Lady" herself, and this band of women became the core of the hospital's volunteer base.  Lois set up a home health visitation service to the homebound through the American Red Cross, and she taught CPR and emergency resuscitation. She worked at the University of Missouri Extension Office in Howell County as a women's representative. She volunteered support to military wives of the 1138th Missouri National Guard when their husbands deployed, and she organized a holiday banquet for veterans at the Armory for many years.   In the 1980s, Lois and her family opened and began managing a travel agency in West Plains.  This started her love for seeing the world, and she traveled in many countries.   Hers was a life beautifully lived, with great humility and love.  But her pride and joy was her family.
She is survived by her four children and fourteen grandchildren:  Rich Moore and wife Linda (West Plains), their three children: Bobbie Moore McLain and husband Andy, Brian Moore and wife Kim (all of West Plains), Eric Moore and wife Ping (Atlanta, Georgia).  Mike Moore and wife Mary (West Plains), their five children: Katie Moore Ashcroft and husband Jay (St. Louis), Jennifer Moore, Elizabeth Moore Woodring and husband Jeremiah (all of West Plains), Ashley Moore (San Francisco), Michael Moore (West Plains).  Patricia Elbrecht and husband Clyde (West Plains), their four children: Rachel Elbrecht Cobb and husband Sam, Nathanael Elbrecht, Martha Elbrecht Dennison and husband Stan (all of West Plains), Daniel Elbrecht (Dallas, Texas),  Kelly Moore and wife Alberta (Springfield, Missouri), their two children:  A.J. Moore and wife Amber (Kansas City, MO), Lauren Moore Zachery and husband Johnathan (Springfield, MO).
Asdrubal Tobar, foster son(San Antonio, TX);  Twenty-six great-grandchildren, many nieces and nephews, who loved her like a mother;  her longtime caregiver Melba Dilbeck and three other wonderful caregivers, Joyce Coppock, Elizabeth Bentz, and Debbie Ipock.
She is preceded in death by her husband, Richard (Dick) Moore, her sister, Louise Chapin, her brother, Rex Gideon Chapin and wife, Hazel, and her parents Oscar and Mary Alice Chapin.
Although Lois Moore lived a long life, she realized that this life is still very temporary. Her faith in Jesus Christ was her highest priority, and the family rejoices that their loved one will now spend eternity with Her Savior and the Lord of her life.   Memorial contributions may be made to Howell Valley Cemetery and may be left at Robertson-Drago Funeral Home.