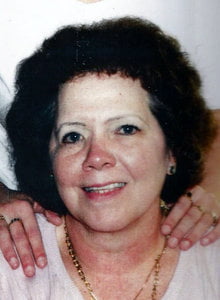 Funeral services for Loretta Carter, 70, West Plains, Missouri, will be held at 10:00 a.m., Friday, October 17, 2014, at the Langston Street Chapel of Robertson-Drago Funeral Home.
Loretta passed from this life to be with her heavenly father October 14, 2014 at her home with her family by her side.
She was born at Hardy, Arkansas on September 27, 1944, the youngest of six children, to Lonnie and Pearl Wicker Baldridge. Loretta was raised a member of the Church of Christ and was baptized as a child of God, she was an angel on earth and had a deep sense of faith and is now rejoicing in Heaven with all of God's Angels.
Loretta was married in 1967 to Norman Blake Dickison who preceded her in death March 19, 1975 and to this union, two children were born, Diana J. Acklin and Linda Armstrong. In 1976, Loretta met and in 1987 married her soul mate, Ross Lee Carter, who preceded her in death December 18, 1998 and to this union one child was born, Joanna Brown, completing their family of devoted daughters.
Loretta was a resident of West Plains for forty-seven years and was an expert self- employed seamstress. She also worked for many establishments in West Plains including Luna's Dry Cleaners and Murrell's Dry Cleaners as well as working in the fabric department at Walmart for some time. In her later years, she was employed as a caregiver and enjoyed working and caring for people. She had a huge heart and cared deeply for the elderly people she worked with, she developed strong bonds and mourned each passing. Loretta was a loving mother and grandmother to all of her children and made many sacrifices. She is deeply loved by her family and friends who knew her.
Loretta is survived by her three daughters, Diana Acklin, husband, Mike, West Plains, Linda Armstrong, husband, Nick, Ava, Missouri and Joanna Brown, special friend, Mark Lowe, West Plains; her beloved grandchildren, Fraley Boss, husband, Jay, Ozark, Missouri, Jordan Owens, Valparaisa, Florida, Emily Stirn, husband, Mike, Layla Acklin, fiancé, Kennith Collins, Shelby Acklin, Poppy and Daisy McKinney, all of West Plains and Elijah Romans, Brandsville, Missouri; three great-granddaughters, Klover and Makyna Boss and Rayne Collins; and several special nieces and nephews.
Her parents, husbands, three brothers, Edward Baldridge, V.L. Baldridge and Ernie Baldridge, one sister, Maggie Overman and one infant sister, Marlene Baldridge, precede her in deat
Visitation will be held from 6:00 until 8:00 p.m., Thursday at Langston Street Chapel of Robertson-Drago Funeral Home. Interment will be in the Bass Chapel Cemetery, Strafford, Missouri at 2:00 p.m. Friday. Memorial contributions may be made to the family, and may be left at Robertson-Drago Funeral Home.