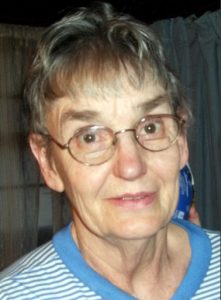 Graveside services for Lucille Pettyjohn, 78, West Plains, Missouri, will be held at 2:00 p.m., Thursday, July 6, 2017 at New Hope Cemetery, under the direction of Robertson-Drago Funeral Home.
Mrs. Pettyjohn passed away at 10:20 a.m., Saturday, July 1, 2017 at her home.
She was born May 19, 1939, at Bakersfield, Missouri, to Luther Davidson and Lena DeBoard Davidson.   On June 13, 1959, she was married at Peace Valley, to Wayne Pettyjohn, who preceded her in death on April 18, 2017.  She enjoyed playing cards, gardening, canning and raising chickens; she was an excellent cook and enjoyed making homemade pies for her family to enjoy.  She also was a seamstress and made clothes for her children when they were young.  Mrs. Pettyjohn was a member of the Church of Christ.
She is survived by five children, Treena Blades and husband, Daniel, West Plains, Ellen Weaver, West Plains, Donna Ross and husband, Mike, Joplin, Missouri, Dwayne Pettyjohn and wife, Tresa, Peace Valley, Missouri and Sharon Pena and husband, Luis, Becker, Minnesota; eleven grandchildren, Catlen Chapman, Standon Pettyjohn and wife, Sara, Shane Pettyjohn and wife, Sonja, Courtney Weaver and fiancé, Lee Arthurs, Brandon Wood and wife, Charity, Jessica Wood, Leshia Pettyjohn, Ryan Pettyjohn and wife, Diona, Austin Pena, Rachel Pena and Nichole Pena; ten great-grandchildren, Emma, Layne, Myles, Bryley, Andrew, Brayden, Angelyn, Hope, Adrian and Reaile; two brothers, R. C. Davidson and wife, Marcille, Bakersfield, Missouri and Ray Davidson and wife, Ina, Van Buren, Arkansas; three sisters, May Carroll and husband, Frank, Alma, Arkansas, Shirley Belt and husband, Ray Gene, Caulfield, Missouri and Marilyn Barton and husband, Randall, Peace Valley, Missouri; and several nieces and nephews.
Her parents, husband, and two brothers, Alfred and Rudy Davidson, precede her in death.
Memorial contributions may be made to New Hope Cemetery and may be left at Robertson-Drago Funeral Home.