Mabel Irene Uhlmann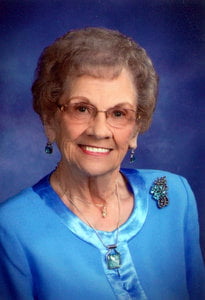 Funeral services for Mabel Irene Uhlmann, 98, West Plains, Missouri, will be held at 2:00 p.m., Sunday, March 12, 2023, in the Rose Chapel at Robertson-Drago Funeral Home.    
Mrs. Uhlmann passed away at 5:57 p.m., Friday, March 3, 2023, at Cedarhurst Senior Living.  
She was born November 25, 1924, at Glenpool, Oklahoma, to Thomas Henderson Rideout and Mary Jane Renfro Rideout.  Mabel's elementary schooling was at Red Ranch School in Howell County, Missouri.  She graduated from Koshkonong High School with the Class of 1941.  On January 1, 1942, she was married at West Plains, to David Harley Uhlmann, who preceded her in death on June 14, 2001.  After their marriage, they resided on their farm in Douglas County.  In 1961 the family moved to West Plains, Missouri.  Mabel worked for Howell Oregon Electric for nine years as a lightning specialist and demonstrated small appliances new to the market.  She designed lighting for several homes and businesses in the area.  She later obtained her real estate broker's license in 1976, retiring at the age of seventy-three years.  Mrs. Uhlmann topped annual real estate sales of $1 million for years 1978, 1981 and 1983 and also received title of Realtor of the Year in the West Plains trade area.  She met and became friends with many people during her long real estate career.  Mabel was a member of the United Freewill Baptist Church and past member of the VFW Ladies Auxiliary Post 1828.
She is survived by her two daughters, Patricia Nall and husband, Gerald and Linda Campbell and husband, Daniel; six grandchildren, Dana Cornell, Brent Campbell, Scott Nall, Trish Ruth, Tyla Duckworth and Tammie Call; twelve great-grandchildren, Linnea Cornell, Ava, Jacy, Liam and Hope Campbell, Rebecca Harrison, Courtney Nall, Allison Dorsch, Riley Call, Kinsey Finley, Karstin Duckworth and Cody Menzies; three great-great-grandchildren; and many nieces and nephews.   Mabel loved her family dearly and was loved by those who knew her.  She was known as an elegant lady.  Mabel enjoyed her time at Cedarhurst Senior Living and became friends with many residents and staff.
Her parents, husband, one great-grandson, Aidan Cornell, four brothers, Hurshal, Henry, Herbert and Robert Rideout and four sisters, Gladys Davis, Mildred Hunter, Berta Rideout and Dortha Taylor, preceded her in death.  
Visitation will be held prior to the service from 1:00 until 2:00 p.m., Sunday, at Robertson-Drago Funeral Home.  Burial will be at Howell Memorial Park Cemetery.  Memorial contributions may be made to Faith Chapel Building Fund or a charity of choice and may be left at or mailed to Robertson-Drago Funeral Home, 211 West Main, West Plains, MO  65775.