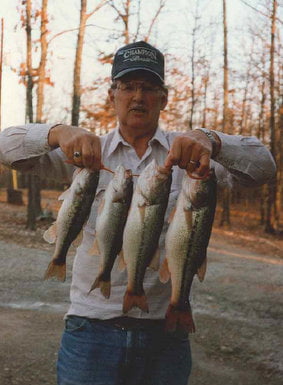 Graveside services for Marcus Sparks, 80, West Plains, Missouri will be held at 2:00 p.m., Sunday, November 2, 2014, at Bly-Big Springs Cemetery, under the direction of Robertson-Drago Funeral Home.
Mr. Sparks died at 7:35 p.m., Tuesday, October 28, 2014, at his home.
He was born August 10, 1934, in Yadkin County, North Carolina, to Hugh and Grace Sparks. While serving in the United States Army, Sparky was stationed in West Germany on the border patrol. He moved to Peoria where he met and married Betty Lou Marshall of Hocomo, Missouri and worked at ABC washing machines. He spent twenty-six years as a switchman at the Rock Island Railroad. Betty Lou and Sparky retired in 1994 and moved to West Plains to catch the big bass in the Lakes of Arkansas. On July 31 the couple celebrated their 54th wedding anniversary.
He is survived by his wife, Betty Lou Sparks; three children, Kim Sparks, Kathy Sparks Edwards and Curtis Sparks, wife, Tiffany; seven grandchildren, Marcus Sparks, wife, Tiffany, Emily Fisher, husband, Jason, Megan Beize, husband, Joe, Caleb Edwards, Abby Sparks, Andrew Sparks and Marshall Edwards; six great-grandchildren, Morgan Sparks, Jayley Fisher, Addison Fisher, Lydia Fisher, Madison Beize and Calvin Fisher; two brothers, Wayne Sparks, wife, Betty and Ricky Sparks, wife Judy; and one sister, Edith Brammer, husband, Woody.
His parents and one son, Douglas Reese Sparks , precede him in death.
Visitation will be held from 6:00 until 8:00 p.m., Saturday at Robertson-Drago Funeral Home.  Memorial contributions may be made to Bly-Big Springs and may be left at Robertson-Drago Funeral Home.